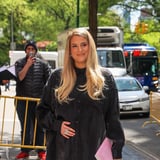 Meghan Trainor is officially a mom of two! The pop star and her husband, Daryl Sabara, welcomed their second child on July 1. In an Instagram post, Trainor, said Barry Bruce Trainor "was a big boy at 8lbs 7oz…and sideways (transverse), but we had an amazing, successful c-section, and I finally got my skin to skin time!" She then sent a "thank you to all of the incredible doctors and nurses who took such great care of us." Barry's birthday is the "7 year anniversary of our first date," Trainor said. Trainor had revealed they were expecting a boy during an April episode of "The Kelly Clarkson Show."
Trainor and Sabara, 31, also share son Riley, born in February 2021. Trainor, 29, announced her second pregnancy in January of this year. Trainor has been very vocal about her second pregnancy, including revealing in February that shortly after she learned she was expecting, she went through a pregnancy loss scare. It turned out she was experiencing implantation bleeding. She also told E! News at the time that she dealt with a lot more nausea during her second pregnancy.
But something she said was a lot easier the second time around is that now she has a community of other moms to lean on, including fellow celeb Hilary Duff. "Now I have mom friends," she told the outlet, revealing that Duff had invited her to a mommy-and-me class. And some of those friends are expecting too. "Now I'm pregnant with other people. And it's the best feeling. It's just been so much better this time around," she told E!
In April, Trainor released a book "Dear Future Mama," described as a "TMI Guide" to pregnancy and early motherhood. Riley appears on the cover with Trainor. Earlier this year, the singer also released her song "Mother" where she sings over and over, "I am your mother."