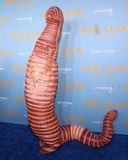 Ever since Heidi Klum birthed her iconic Halloween party back in 2000, the supermodel has become the queen of the holiday. The location and date may have changed over the past two decades, but there's one thing we can always count on: Klum's epic, over-the-top Halloween costumes. If there were actual awards for best celebrity Halloween costumes, she'd regularly take home the prize.
Since going as a zombie doll for her Halloween party debut, she's experimented with everything from a Garden of Eden apple to accommodate her baby bump at the time, to an incredibly realistic re-creation of Jessica Rabbit. She's even gotten her partners and kids involved for clever couples' Halloween costumes and family-friendly Halloween costumes.
While Klum has worn over 20 extravagant costumes since the early aughts, she still manages to surprise us with a creative Halloween costume every year. But aside from her originality, her commitment to the craft is equally as impressive, as she never fails to go the extra mile to look unrecognizable. Case in point: no one could have expected Klum to show up as giant, slimy worm in 2022, which was an idea she'd been working on for two years.
As we await her next ensemble this Halloween, take a look back at all of Klum's Halloween costumes over the years ahead.
– Additional reporting by Yerin Kim