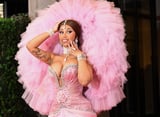 Cardi B and Offset went all out for their daughter's fifth birthday on June 10. In honor of their eldest child's milestone birthday, the proud parents threw not one but two parties for Kulture. The first was a ballerina-themed celebration, complete with a light-up photo-op spot, a pink gift table, and a meet-and-greet with Poppy from the movie "Trolls." Of course, Kulture arrived dressed for the occasion in a full ballerina costume, including a feathery tutu and lace-up sandals with pink ribbon ties.
"It's beautiful seeing my girl grow yet makes me a lil sad."
"My baby is five," Cardi B wrote on Instagram shortly after returning from Paris Haute Couture Fashion Week. "Happy birthday to my pretty princess. It's beautiful seeing my girl grow yet makes me a lil sad that my baby is not my little baby no more." Hinting at more festivities to come over the weekend, she added, "light lil turn up today till the weekend." Later in the day, Cardi B received her own surprise when she and Kulture met up with Offset, who planned a second surprise "Blue's Clues" party for his daughter. "I wish this man would [have] let me know," Cardi B said on her Instagram Stories. "I would of pop out with 100 people lmaaoooooo."
The event, which took place at Nickelodeon's American Dream theme park, in New Jersey, featured a DJ, buffet table, and a pink-and-purple balloon display that doubled as the perfect photo backdrop. While Kulture and Wave enjoyed cake, Cardi B took a moment to dance and lip-sync to her rap on FendiDa Rappa's "Point Me 2," which was playing over the speakers. "Happy birthday @kulturekiari," Offset captioned photos of Kulture on his Instagram account. "[You're] such a great daughter you make me smile every time I lay eyes on you….I can't believe you are 5 years old already I remember holding you when you were first born in my arms….daddy's girl I love you so much."
The over-the-top festivities come just a few weeks after Cardi B celebrated her daughter's preschool graduation. "My baby moving on up. I'm [an] emotional proud mommy. Give me good grades and I'll give you the world baby," she captioned photos from Kulture's big day.
Ahead, sneak a peek at Kulture's fun-filled fifth birthday party.