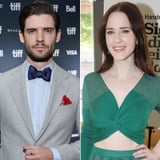 It's a bird, it's a plane, it's the new Superman and Lois Lane! On June 27, news broke that David Corenswet and Rachel Brosnahan will be taking on the iconic roles in the new movie "Superman: Legacy." The movie's writer and director James Gunn (who is also the co-head of DC Studios) confirmed The Hollywood Reporter's report on Twitter, writing, "Accurate! (They are not only both incredible actors, but also wonderful people)."
And the cast just got bigger! On July 11, Vanity Fair reported that Isabela Merced, Edi Gathegi, and Nathan Fillion all hopped on board.
Corenswet, 30, most recently appeared in the 2022 A24 horror movie "Pearl." On the TV side, he's been in "The Politician" and "Hollywood" – both Netflix series from Ryan Murphy – and HBO's "We Own This City." He's also set to appear in Apple TV+'s "Lady in the Lake" series later this year and in Searchlight's upcoming musical, "The Greatest Hits."
Meanwhile Brosnahan, 32, just wrapped up her Emmy-winning run as the titular character in "The Marvelous Mrs. Maisel." She also appeared on Broadway this season in the play "The Sign in Sidney Brustein's Window" with Oscar Isaac.
"Superman: Legacy" is the first project in the brand new DC Universe. Back in January, Gunn and fellow DC head Peter Safran announced 10 projects that will be part of the this new universe. But DC will still make side projects that have nothing to do with the main canon (like the "Joker" film and its upcoming sequel), and Gunn said in May that Ta-Nehisi Coates's Superman movie that would feature a Black actor as Clark Kent could still happen, too.
Ahead, here's what to know about "Superman: Legacy" so far.