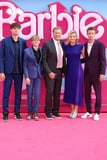 Funnyman Will Ferrell and his wife, Viveca Paulin, have been married for over two decades and share three sons together. Though neither Will nor Viveca have social media accounts full of pictures of their family, they've made a few public appearances as a group over the years, and most recently, all five of them stepped out together at the July 12 London premiere of "Barbie," which Will stars in as the CEO of Mattel.
Over the years, we've also gleaned a little bit of insight about the boys from Will in interviews. Magnus Paulin Ferrell was born in 2004, Mattias Paulin Ferrell was born in 2006, and Axel Paulin Ferrell arrived in 2010. All three of Will's kids seem to be taking after their dad at least a little – they all appeared in "Anchorman 2" in 2013, and in 2018, Will told Parade that his kids are all funny in their own ways.
"I have a freshman in high school and he's very subtly funny. Last year for his yearbook photo, he borrowed another kid's glasses. He doesn't wear glasses. There he is with this very serious look with glasses on. Like 'Magnus, that is so subversive and funny. Totally my sense of humor.' He's like, 'Am I in trouble?' Like, 'No, you've got to do it every year! Fantastic!'" He also said that they all have a sense of humor and love to make their friends laugh, just like their dad. However, for now, the boys haven't pursued acting or comedy much further – maybe because they don't really think their dad is all that funny! Whatever the case, Will and Viveca are content to let them make their own decisions about what they'll do with their futures.
But parenting isn't always fun and games, even for Will, and being away filming various projects weighed on the actor from time to time but he learned from his characters' stories. He told News.Com.Au in 2015 that he identified with the story in "Daddy's Home." "The message of the movie is we're all flying blind a little bit as parents, we're just trying and hoping that we're doing the right thing," he said. "We don't really know but as long as there's enough love in a family, it'll cushion any bumpy landing. I can definitely identify with that."
Will also told People back in 2008 that his best parenting advice is just to talk to your kids. "For me, talk to your children, at least once a week," he said jokingly, though it's still not bad advice. "If you've got time, do it two or three times a week, but otherwise, I find the times where I let weeks and weeks go by without talking to my children, that adds up." We like to think that Will talks to his kids at least once a day, maybe even twice!
Ahead, get to know the Ferrell boys even better.