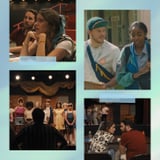 There is a moment toward the end of "Theater Camp" where one of the campers says that being at camp has helped him accept that he's straight. His two gay dads tell him they always knew and still support him. Of course this is a joke, a parody of the more common moment where a kid has to come out to his parents as gay. But the essence of "Theater Camp" – and why it's probably my favorite queer film of the year – is in that moment. "Theater Camp" effortlessly and immediately creates a queer world, where no one – no matter their age – has to explain or defend themselves. It's a vision of a queer future.
Let's back up. The new movie, directed by Molly Gordon and Nick Lieberman from a script written by them, Ben Platt, and Noah Galvin, transports you to camp AdirondACTS, which is struggling to stay afloat in upstate New York. Platt and Gordon play Amos and Rebecca-Diane, best friends who fell in love with the camp as kids and now teach there. Galvin plays the more practically minded Glenn, who runs the tech department and is basically the only thing keeping everything from falling apart. They're joined by "The Bear" star (and newly minted Emmy nominee) Ayo Edebiri as Janet, who's faking her way through the summer; Owen Thiele as Gigi, an over-the-top costume designer; and Jimmy Tatro as Troy, the hapless son of the camp's beloved director Joan (Amy Sedaris). When Joan has a medical emergency that keeps her in a coma for the summer season, it's up to this motley crew to keep the camp going – all while teaching the camp's best and brightest an original musical about Joan's life, titled "Joan Still."
Which brings us to the kids. "Theater Camp" simply would not work without this group of kids. The squad includes Alan Kim of "Minari," Kyndra Sanchez, Alexander Bello, Bailee Bonick, Donovan Colan, Vivienne Sachs, Quinn Titcomb, Jack Sobolewski, and Madisen Lora. "The Mighty Ducks: Game Changers" star Luke Islam plays perhaps my favorite camper, Christopher L. He brings a presence and light into all his scenes that's just a joy to watch. It's easy to imagine that every other week of the year, Christopher L. has to deal with people who have a problem with a big gay kid who just wants to dance and talk about Audra McDonald. But at camp, he can just be himself.
These kids are theater kids. They worship their teachers, even when they torment them. They hoard Throat Coat tea before the big performance. Performing "Rent" last summer changed their lives. And as a queer adult watching "Theater Camp," I know that a lot of these kids are queer. The titular camp is where the kids' gender expression, sexualities, and burgeoning identities are celebrated and embraced. It's where the one straight kid has to worry that he won't be accepted for once. I love this fictional haven, this gorgeous celebration of queerness, that "Theater Camp" creates.
That's not to say that AdoriondACTS is a perfect place. The teachers – especially Amos and Rebecca-Diane – are frequently out of pocket with their critiques of the children. Every former theater kids knows that competition for lead roles can be heart-breaking, and if you were a former theater kid, you'll laugh extra hard at some of the deranged dynamics on display. Every moment is extra ridiculous for comedy's sake, but when I think about things that happened when I did high school theater (including a teacher who told us to ask our parents for a sip of whiskey so we could play drunk more convincingly), these moments aren't that ridiculous.
In "Theater Camp," Troy is the biggest outsider. He's an aspiring crypto bro. He wears tie-dye sweatshirts and weird baseball hats. But through the course of the film, Troy evolves. He comes to understand his mom and why she made this special place, and realizes there is room for him here, too, if he wants it – and he's stunned to realize that he does. To me, Troy's journey feels like his own coming out story.
Troy and Glen – who also learns a lot about self-acceptance throughout the movie's 90 minutes – work together to save the day, and Tatro and Galvin really steal the show in the movie's final moments. And yes, I cried during the final musical number.
At a time when queer people – and especially trans people and drag performers – are dealing with an avalanche of attacks, often cloaked in faux concern for children, "Theater Camp" is a reminder that queer kids exist, and their creativity and love will continue to change the world.
"Theater Camp" is in select theaters now.