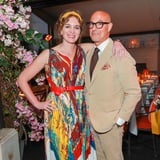 Stanley Tucci's relationship with wife Felicity Blunt almost ended before it had a chance to begin. In a July interview with BBC Radio 4's "Desert Island Discs," Tucci opened up about his marriage to Emily Blunt's sister, revealing early on, he tried to break things off due to their age difference. "The Devil Wears Prada" actor is 62, 21 years older than his wife.
"I was afraid to get into a relationship and I kept trying to break it off," Tucci said. "I'm 21 years older than she is and I didn't want to feel old for the rest of my life! But I knew that this was an incredibly special person."
It wasn't just his age that was bothering Tucci. He was also still processing his grief over losing his first wife, Kate Tucci, who died from breast cancer in 2009, when he became involved with Felicity in 2010. The two connected at Emily's wedding to John Krasinski, but it took the actor some time to let himself fall in love again.
Ultimately, he realized his connection with Felicity was too strong to ignore, and the pair married in 2012. "Felicity has been so incredible taking on a widower and three children whose mother died," Tucci said. "That's a huge thing, at a very young age too. If anybody made things better for all of us, it's her. She's the one."
Tucci then chose "A Foggy Day (in London Town)" to play on the show, because it's the song he and Felicity shared their first dance to at their wedding. He also honored Kate by introducing "What a Wonderful World," which she requested be played at her memorial. "I just loved that she picked this song because that's the way she saw the world," he said. "She was always, always upbeat, always saw things in a positive way, no matter what was happening."
When Felicity and Tucci married, the literary agent stepped into the role of stepmother to Isabel and Nicolo, both 23, and Camilla, 21. Since then, the couple has welcomed two children together: Matteo Oliver, 8, and Emilia Giovanna, 5.