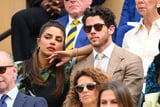 Priyanka Chopra and Nick Jonas know how to do a mommy-daddy day out right. On July 15, the married couple headed to Wimbledon to watch the women's final between Czech Republic's Markéta Vondrouŝová and Tunisia's Ons Jabeur. While Chopra and Jonas spent plenty of time cheering on the players, they also took some time out at the event to cozy up together as they whispered in each other's ears, and Chopra leaned on her husband's shoulder.
The sweet displays of affection were intermixed with scenes of Chopra enthusiastically cheering in the stands. As for Jonas, the pop star looked serious throughout most of the game as he watched the players from behind his sunglasses. He did crack a smile when he leaned over to tell Chopra something, but for the most part, he seemed to be focused on the match.
Now that they're parents to 1-year-old Malti Jonas, Chopra and Jonas are focused on ensuring their daughter always has at least one of them by her side when her famous parents are traveling. In a January interview with Vogue, the couple revealed they coordinate their schedules so one of them can be home with Malti while the other is working. But even as they focus on their daughter, they still make their relationship a priority, too.
Chopra told the publication that she and Jonas often play "show and tell" as a way to continue learning about one another. "We did go zero to 60," Chopra said. "We didn't know each other's careers before we met. Like, didn't know them well. So we do a show-and-tell once in a while and share random things that we've done to show the other person what we were like when we were younger."
Chopra and Jonas weren't the only celebrities in attendance at the women's final. The match was also attended by Emma Watson and her father, Chris Watson, Andrew Garfield, Lewis Capaldi, Lin-Manuel Miranda, and his wife, Vanessa Nadal. Check out the gallery ahead for photos of Chopra and Jonas enjoying the match.