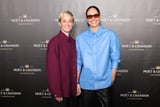 In the entertainment world, it's common to see celebrities that work in similar areas (actors, musicians, etc.) be in highly publicized, romantic relationships. For athletes, however, it may not be as common, but that doesn't mean there aren't cases of love on and off the field or court. Take, for instance, longtime couple Sue Bird and Megan Rapinoe. The former WNBA legend and soccer star are royalty in their respective fields and have collectively earned a total of seven Olympic medals for their accomplishments in sports.
According to People, the two met at the 2016 Summer Olympics in Rio de Janeiro and started dating shortly after. The couple got engaged in 2020. Rapinoe gushed about Bird in a 2021 interview with People, saying, "I feel like every time she does something, I'm like bursting with pride and she's just doing so many things out in the world that really are making a difference . . . I think I pinch myself all the time thinking how lucky we are to be in this life together."
Keep reading for a complete timeline of Bird and Rapinoe's relationship.