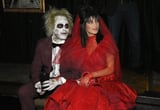 It's hard to envision Halloween before Heidi Klum gave a full interview dressed as a worm alongside Tom Kaulitz. And where did we turn for inspiration before Joe Jonas and Sophie Turner broke the internet with their take on Gomez and Morticia Addams? For the past several years, Hollywood has slowly but surely raised the bar for celebrity couples' costumes, tapping into niche pop culture references, showing off their sense of humor, and impressing us all with seemingly flawless execution.
From Brooklyn and Nicola Peltz Beckham's dreamy Romeo and Juliet couples' costume, to more long-standing favorites like Mariah Carey and Nick Cannon's angels, Halloween is a serious affair for many celebrities. It's a time to branch out together, try new things, and not take yourselves too seriously.
In years past, Chrissy Teigen and John Legend totally nailed the assignment, looking cute as ever in a Princess Peach and Mario couples' costume. On the other end of the spectrum, Jessica Simpson and Eric Johnson went the funny route, dressing up as Danny DeVito and Arnold Schwarzenegger from "Twins." But no matter the vibe, celebrities have just about done it all. Take a trip down memory lane and get inspired by some of the most iconic celebrity couples' costumes of all time. Pick your favorite, and create a legendary couples' costume of your own this year.
– Additional reporting by Chandler Plante