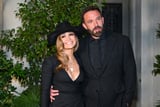 If there's any proof that love can thrive a second time around, it's undoubtedly Jennifer Lopez and Ben Affleck's romance. The two were once the biggest duo of the early 2000s and arguably inspired the trend of celebrity couple names when they were dubbed "Bennifer" by fans. The pair split in January 2004 just before their intended wedding, meaning their whirlwind relationship only lasted two years. But true love never goes away, as they managed to find their way back to one another nearly 20 years later.
Bennifer came back in full force, with Lopez announcing on April 9, 2022, that the pair had gotten engaged. In her April 12, 2022, "On the JLo" newsletter, she revealed more details about the engagement. "Saturday night while at my favorite place on earth (in the bubble bath), my beautiful love got on one knee and proposed," she wrote of Affleck. "I was taken totally off guard and just looked in his eyes smiling and crying at the same time."
Lopez added that she was "trying hard to get my head around the fact that after 20 years this was happening all over again." She continued, "I was quite literally speechless and he said, 'Is that a yes?' I said, 'YES of course that's a YES.'"
Three months after announcing their engagement, Lopez and Affleck tied the knot in a small Vegas ceremony after obtaining a marriage license in Clark County, NV, on July 16, 2022. The former confirmed the news the following day, once again in her newsletter, writing, "We did it. Love is beautiful. Love is kind. And it turns out love is patient. Twenty years patient." The pair also got married in a second ceremony in Georgia the following month, where they were surrounded by friends and family.
From Affleck and Lopez's initial sparks on the set of the movie "Gigli" and the rekindling of their romance in 2021 to their surprise wedding, first event appearance as husband and wife, holidays together, and more, here's all you need to know about the couple's relationship timeline.
– Additional reporting by Alicia Geigel and Njera Perkins