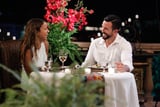 It may feel like "The Bachelor" (and all the other shows in the franchise) is on all year round, but for those days when it's not on, Hulu has plenty of reality dating shows to keep you busy. That includes splashy franchises like "Love Island UK" and "Love Island Australia," as well as new love concepts to get into like Hulu's "Back in the Groove," which gives 40-somethings a second chance at love with hot younger men. The streamer has something for every hopeless romantic who loves drama.
Nothing beats being able to binge seasons of some of the most popular dating shows on Hulu, especially if you're looking for something to offer hours of entertainment. In that case, endless seasons of "The Bachelorette" and "Married at First Sight" are must adds for your Hulu watchlist.
These Hulu dating shows will make you laugh, cry, and, of course, keep watching for more. Ahead, scroll through our 10 picks of the best dating shows now streaming on Hulu.
– Additional reporting by Njera Perkins