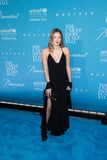 Before West Duchovny's breakout role in "Saint X," her parents were the ones in the spotlight. West, 24, is the daughter of David Duchovny – who's starred in multiple series, including "The X-Files" and "Californication" – and Téa Leoni, who is also an actor with roles in "A League of Their Own," "Fraiser," and more.
David and Leoni were married from 1997 to 2014. During their time together, they welcomed West in 1999 and a son named Kyd Miller Duchovny in 2002. Despite separating, the couple seem to remain on good terms, coming together for special occasions and vacations with both of their kids. Not only that, but West and Kyd appear to have equally strong relationships with both of their parents. In January 2020, West documented an adorable family vacation on Instagram.
In an interview with "On the Red Carpet" in 2023, West opened up about how great it is to have her parents to go to for acting advice. "To have two people who have been in it for so long, to consult with them and to share my fears with them, it's a blessing," she shared.
To find out more about West's parents, scroll through this gallery.