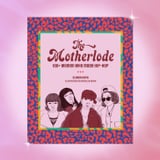 Clover Hope is well known for documenting pop culture icons through her many cover stories, profiles, and interviews. The prolific journalist and author took her work to new heights in February 2021 when she released "The Motherlode: 100+ Women Who Made Hip-Hop," her ode to the culture's female pioneers, trailblazers, and current heavy-hitters. While the book offers a visual map of more than 100 influential women in ra, and details their musical and career breakthroughs, Hope's latest version of it aims to elevate these women's legacies even more through audio.
"The Motherlode: 100 + Women Who Made Hip Hop," now an Audible Original, launched as a five-chapter audio series on Aug. 10 to dig deeper into the history and misogyny of hip-hop, propping up its "overlooked innovators and underappreciated voices" in a new form of media just in time for the culture's 50th anniversary. Created and executive produced by Hope, the audio series based on her book, she says, promises a "new listening experience," as it's narrated by some of the most prominent women in hip-hop, including MC Lyte, Remy Ma, and radio legend Angie Martinez, as well as stars like Lauren London, Nia Long, Chloe Bailey, and Janelle James, plus Hope herself.
Through archival footage, music snippets, scripted reenactments, and more, Hope and Audible's "The Motherlode" offers listeners the chance to hear all about the history of women in hip-hop straight from their mouths.
Ahead of the "Motherlode"'s audio launch, Hope spoke to POPSUGAR about revisiting her book in a new medium, honoring women in hip-hop, and her star-studded cast of narrators. Read ahead for the full conversation, plus an exclusive snippet from the series with Salt-N-Pepa discussing their impact on fashion.
POPSUGAR: It's been over two years since your book was released. Was your work done with that, or did this audio series offer a chance to revisit and elevate it?
Clover Hope: It was a chance to bring the words to life and also bring the stories to life. When I was working on the book, it was important to have these illustrations along with the histories and this documentation because actually seeing the women adds this additional layer. Illustrations of MC Lyte and how she chose to present herself, and Queen Latifah and Lauryn Hill, how they actually looked. And so with the audio, it's a chance to see, hear, feel, and get that added context. Not only are you reading the stories, you're seeing them represented in the book and then, now, you're hearing them in audio form told by these other really iconic women in entertainment who are threading this story and giving you this narrative.
[This series] was a chance to also have this entirely new listening experience because, in addition to me narrating, you have these other voices narrating, musical archives, and song snippets, which is probably the most exciting part to me. You're breaking into the storytelling and hearing these iconic songs as you're hearing the stories being told.
PS: Was it a difficult process to clear those songs for the series?
CH: Yeah, it is a process, but I think that was important to include despite the clearance part of it. Partly because, even with the book and the audio series, I thought about how much people dissect rap lyrics. Working in hip-hop journalism all these years, and mostly with men, I've been in these debates about who's the greatest and top songs, and people will dissect these lyrics like they're doing surgery or something. That's what I miss though, seeing it for songs by women. Hearing these songs be dissected and given the same type of attention we do to Biggie's "Warning," to Lauryn Hill's "Lost Ones," or Trina's "Da Baddest B*tch," I think, is important.
PS: How did you get women like MC Lyte, Nia Long, Remy Ma, Lauren London, and Angie Martinez to narrate the series?
CH: I know, it's kind of wild. And also, a little bit of my wildest dreams, because it started with thinking about, "All right, what is our wish list?" MC Lyte was at the top of that. She's the voice, the announcer, and she's in the book. I talk so much about how she controls and commands her voice and actually having her as the bedrock of the series. Once that locked in place, the whole project just felt more real.
And then we kind of got one after the other. Like the voice of New York, Angie Martinez, and Nia Long, who has that warmth and softness. It was important in making sure that there was a variety of voices that you're hearing because it is an audio experience, so you want to have those distinct, unique voices telling these stories.
PS: Tell us when you first discovered hip-hop and how that planted the seed for "The Motherlode," the book and the audio series.
CH: That's a long story. I think a lot of my love of music in general came from my family and my dad. Our family came here from Guyana. I was born there and came here when I was around 1 year old. A lot of my youth was being engaged in American music, Black American music, and learning and hearing it in the house all the time. We had Whitney Houston, Stevie Wonder, and Michael Jackson, and I remember flipping through those records and feeling a soulfulness fill the house. We had this record player, and once I started being able to discover music on my own and through my sister, it felt like I was taking charge of my own and being able to almost curate my identity through listening to hip-hop records.
I was a child of the '90s growing up on radio, Hot 97, "Video Music Box," all the historical archives that basically helped teach me about hip-hop. I saw artists being interviewed on these shows, directors talking about why they made a certain video, or would hear interviews with Da Brat or [Lil'] Kim on the radio. There were all of these ways that I could learn about hip-hop while I was discovering it, and I think that planted a seed of wanting to do that myself. I also loved reading, going to the library, and soaking in information. I wanted to know everything about hip-hop, so in that way, once I began a career in journalism and was able to turn that in the opposite direction, it was natural curiosity that allowed me to be able to be a vessel for these women's stories because I grew up listening to them.
I cared about them and how they were handled in the industry, and I care about documenting and archiving and having places where we can learn in an organic way that there's not one version of the story. There might be 100 versions of the story, and each of them helps tell the full [narrative]. You actually made me realize that connection of how I'm basically documenting in a way that I was receiving that documentation when I was younger, so thank you.
PS: Did you learn anything new while revisiting your book for this audio series?
CH: Yeah, there are definitely artists that I discovered that I hadn't known about before. And then stories about artists that I already knew that I learned more about. Like MC Lyte, who I knew because my discovery of hip-hop, it came at the tail end of when she was transitioning into a different phase of her career. So there was stuff about her upbringing that I learned and how she trained her voice. The reason that we have this voice, that she can be a narrator in this series, an announcer for award shows, and things like that, goes back to those teenage years when she was training.
The idea was, if I don't know the women – and I've been in hip-hop for almost two decades now writing about it, and then even longer as a fan – then there's something more that other people can learn, whether they're fans, enthusiasts, or an everyday listener of hip-hop. There are a lot of nuggets and factoids sprinkled throughout the audio series.
PS: For the people who have already read your book, what else are they going to get out of this audio series?
CH: Well, you get MC Lyte reading Cardi B lyrics. Those moments where the narrators themselves bring the information and the stories alive. What I tend to love about anything that has to do with audio is how intimate it can be. This is one of those things that you can just put on and really get lost in. And I think that intimacy that it allows is something different that even if you have read the book, you might want to hear Angie Martinez reading about Azealia Banks. Or these little nuggets of information as you're washing dishes or commuting or however you experience it. There's a surprise around every corner, and I think that element of surprise, joy, and a little bit of sensuality – also in the subject matter is sometimes women talking about sex. That's fascinating to me, so hopefully it's fascinating to other people.
"The Motherlode: 100 + Women Who Made Hip Hop" audio series is available on Audible now.