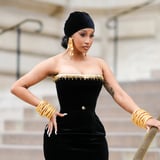 When an audience member tossed a drink at her during a performance, Cardi B didn't hesitate before returning the favor. The star was performing at Drai's Beachclub in Las Vegas on July 29 when someone in the crowd splashed her with a drink, and Cardi responded by immediately hurling her mic right back at the attendee, who appeared to be quickly escorted away, per a viral video of the incident.
Now, though, it seems some good is coming out of the incident. Per CBS News, Scott Fisher – who owns the audio company The Wave, which provided sound equipment for Cardi's show at Drai's Beachclub – put the mic Cardi threw up for auction on eBay, and on on Aug. 8, the mic sold for $100,000. According to CBS, money from the sale will go to two charities: the Wounded Warrior Project and the nonprofit Friendship Circle Las Vegas.
According to CNN, police began an investigation shortly after the incident, but as of Aug. 3, they revealed that Cardi would not face charges. "After a thorough review of this case and with the consultation from the Clark County District Attorney's Office, this case has been closed as having insufficient evidence. No charges will be filed in relation to this case," Las Vegas Metropolitan Police said in a statement to CNN. The Las Vegas Metropolitan Police did not immediately respond to POPSUGAR's request for comment.
Cardi's attorneys, Drew Findling, David Chesnoff, and Richard Schonfeld, also shared a statement with CNN: "On behalf of Cardi, we appreciate the Las Vegas Metropolitan Police Dept's diligent and prompt resolution of this matter." Reps for Cardi did not respond to POPSUGAR's request for comment.
The same day of the incident, the artist retweeted a video of the altercation that included the caption "Jealous Ass B*tch" and a link to her and her husband Offset's new song "Jealousy," which dropped on July 28.
Cardi is the latest artist who's been hit with an object while performing over the past few months. Bizarrely, multiple major artists have recently been made into targets by audience members during shows, including Harry Styles, who was hit with chicken nuggets in 2022; Bebe Rexha, who was hospitalized after being hit with a cellphone in June; and Kelsea Ballerini, who stopped her show after being hit in the eye by a friendship bracelet that same month.
According to psychology professor Maryanne Fisher, this phenomenon might have something to do with fans' parasocial relationships with artists, which have been exacerbated by the pandemic and the rise of social media, as well as the digital world's emphasis on creating viral content at any cost.