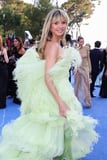 Heidi Klum's Italian vacation is now a family affair. On Aug. 8, the "America's Got Talent" judge began sharing photos of her four children on vacation with her and her husband, Tom Kaulitz. The couple have been jet-setting across Europe all summer long, but Klum's most recent Instagram posts reveal her children, whom she shares with her ex-husband, Seal, are enjoying some beach time with their mom, too.
While Klum often shares photos of herself and Kaulitz on her Instagram, the mom of four is more private with her kids: Leni, 19, Henry, 17, Johan, 16, and Lou, 13. Klum's oldest daughter, Leni, is the most public of the bunch since she's following in her mom's footsteps as a model, but Klum remains protective of all of her kids' privacy. In her recent batch of photos, Klum was careful not to show her children's faces, even as she showcased several special family moments.
In her first post, Klum can be seen sitting in the backseat of a van with her hand on one of her son's knees. Her daughter Lou, mom, Erna Klum, and her other son sit in the middle seat, while her eldest daughter appears to ride up front. Klum captioned the road trip photo, "Happiness."
Then, on Aug. 10, Klum shared a photo of herself holding hands with Lou and one of her sons as they stood on a rock staring out at the ocean. The next day, Klum shared a photo of Lou looking at herself in a mirror, and another of her sitting with all four of her kids in a beach day carousel. "What a beautiful day," Klum captioned her collection of pics. On the same day, she also shared a short video of her mom holding on to one of her sons during a boat ride.
In a 2022 interview with "Today," Klum shared how she makes her blended family work. "I mean, it's never easy," she said. "Obviously when you get married and you have children, you hope for that to last forever. When I said 'yes' I meant yes forever. Unfortunately, that was not the case, and so you try to do your best to keep your children as happy as possible and keep them as grounded and loved most as possible."
See all of the photos Klum has shared of her kids on vacation in the gallery ahead.