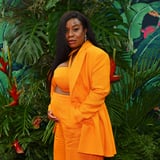 Uzo Aduba is having an exciting year. Not only did her new Netflix series, "Painkiller," premiere on Netflix this month, the mom-to-be recently celebrated the impending arrival of her first child at a baby shower with family and friends. On Aug. 10, the "Orange Is the New Black" actor shared two sweet photos of her and her husband, Robert Sweeting, at their shower on Instagram.
In the first pic, Aduba wears a long pink dress next to a safari-themed cake, while Sweeting stands behind her with his hand on her stomach. The two posed as they cut the cake and smiled for the camera. In the second photo, Aduba grins as she sits in a rattan chair with Sweeting standing beside her, both posing in front of a sign that reads "Baby Sweeting." The actor's husband again rests his hand on her growing baby bump.
"Our Baby Shower," Aduba captioned her post. "It was such an amazing feeling to have our families host a baby shower for us, and to spend great time with our loved ones. Robert and I get more and more excited with everyday. To our friends and family- thank you for sharing in this journey with us and for making sure this baby knows just how loved they already are. We had a good good time!"
Aduba was also quick to make sure her followers understood she wasn't using her pink dress as a tipoff to the sex of the baby. She added, "p.s. this dress choice is hinting at nothing. I honestly just liked the color."
The actor first revealed that she was pregnant at the 2023 Tony Awards back in June. She and Sweeting walked the red carpet together, and she pulled back her jacket to show off her baby bump to the cameras. Check out the photos from Aduba's baby shower below.