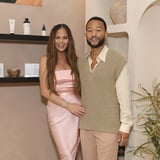 Baby Esti is growing up so fast. On Aug. 13, John Legend shared a video of his 7-month-old daughter saying her first word on Instagram, and he got so excited, he ended up making her cry. "DADA!" he captioned the sweet video. "Then I got too excited and scared her."
In the video, Esti sat with her mom, Chrissy Teigen, her little brother Wren, and another person, as she babbled happily. Off camera, Legend asked her, "What's my name?" The little one smiled in response as Teigen prompted, "What's daddy's name? Dada?" Esti was quick to let the room know she heard a word she could say, as she repeated, "Dada," much to her dad's delight.
"We got it on tape, baby!" Legend exclaimed. "Caught on tape!" Hilariously, his excitement was too much for Esti to take. She quickly went from smiling to bursting into tears. "She's crying," a sheepish Legend can be heard saying at the end of the video.
Esti's big moment comes just one day after the Legend-Teigen family returned from their first vacation as a family of six. Both Legend and Teigen shared multiple posts on Instagram chronicling their adventures with Luna, Miles, Esti, and baby Wren. "Our first vacation as a family of six," Legend captioned an Aug. 7 Instagram post. "So far, so great!"
The couple welcomed Esti in January of this year and then surprised fans when Wren followed via surrogate in June. Teigen shared the news in an emotional statement on Instagram, which outlined her desire to have a big family. "For as long as I can remember, I've always wanted four children," Chrissy wrote. "As a little girl, 2 glow worms and 2 cabbage patch dolls were perpetually in my arms, helping me stir in my kitchen, watching Alf with me. We'd sleep together nightly, each getting the same amount of kisses as to not make the others jealous."
She went on to share that she and Legend had inquired about having two surrogates at once in 2021, before Teigen decided she wanted to try to carry one more baby herself. "And so we restarted the IVF process," she continued. "We did my transfer, and were so happy to learn it worked – we were pregnant with our little girl, Esti." After one unsuccessful transfer, their surrogate, Alexandra, became pregnant with Legend and Teigen's son, Wren, who arrived in June.
"Our hearts, and our home, are officially full," Teigen concluded her post. "And to our Jack, we know both their angel kisses are from you."