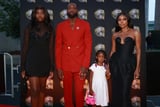 On Aug. 12, Dwyane Wade's incredible basketball career was immortalized as he was inducted into the Basketball Hall of Fame in Springfield, MA, with his family by his side. The retired NBA player had plenty of support thanks to his wife, Gabrielle Union; his kids Zaya Wade, Zaire Wade, Kaavia James, and Dahveon Morris; and his nephew, for whom he is a legal guardian. (Only his son Xavier Wade was missing from the celebration.) Additionally, Dwyane's parents, Jolinda Wade and Dwyane Wade, Sr., were also there for their son's big day.
Ahead of the ceremony, Dwyane walked the red carpet with his family by his side. In one group photo, he sported a bright red suit, while Union looked stunning in an elegant strapless black gown. His daughter Zaya matched Union in a short black dress with sheer sleeves, while the couple's youngest child, Kaavia James, wore a white dress, which she accessorized with a bright pink purse and colorful beads in her hair. Meanwhile, Zaire opted for a patterned navy blue suit, and Dahveon went semi-casual in a green polo shirt and black slacks.
Dwyane's mom, Jolinda, may have stolen the show with her colorful rainbow dress. The proud mom beamed as she posed for pictures with her son on the red carpet. The retired NBA player's dad avoided the spotlight on the red carpet, but once inside, Dwyane invited his father on stage as he thanked him for his years of support.
"Pops, would you please stand," Dwyane said in his speech. "I started this off thanking you and I want to end it the same way. I owe you a debt of gratitude that I'll never be able to repay. When I would cry and say, 'I can't,' you made me go harder. You pushed me to limits that I didn't know were inside of me. The hard work I put in was because I didn't want to let you down. Those countless hours in the backyard when we would compete against each other like strangers, it built me to last."
He continued, "Those days that turned into late nights of me working on my left hand, so it was just as good as my right, it made me an unstoppable force. The time you got kicked out of the game as my coach and snuck back in the side door, and coached me from the stands just to get kicked out again? It showed me there was no limitations on how you would show up for me… so even though I hated being called little Dwyane as a kid, I admired you then, and I admire you now."
Dwyane concluded his speech by dedicating his honor to his dad. "Will you join me onstage as we take our rightful step into basketball heaven?" he asked. Once his dad joined him, Dwyane said, "This one right here is for my father. I love you, and I'm thankful for you. We in the Hall of Fame, dawg!"
Check out the gallery ahead to see Dwyane's emotional speech in full, as well photos of his family supporting him at the Basketball Hall of Fame induction.