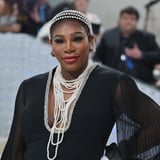 Serena Williams is squeezing in some last-minute rest and relaxation before her second baby arrives. On Aug. 13, the retired tennis pro shared a video from her friends' and family's unique take on a baby shower, which she dubbed a "pre-push party." In the video, which she shared on YouTube, Serena and daughter Olympia Ohanian enjoyed some spa-day pampering and pool time courtesy of her friend Lara Shriftman, who organized the special day.
Williams is expecting her second daughter with husband Alexis Ohanian soon. In between enjoying a facial and foot massages, she took a break to share how she's feeling as her due date approaches. "Baby number two is on the way after, you know, lots of time waiting," she said. "So how am I feeling about it? Excited, anxious, nervous, happy . . . all of the above."
She went on to add that while she's mentally prepared, she still has plenty of practical things to check off her to-do list. Among the tasks she still has to complete before the baby's arrival are putting together the crib and changing table. Fortunately, it looks like she'll have plenty of help, thanks to both Ohanian and her community of friends and family.
While Ohanian didn't appear to score an invite to the "pre-push party," Williams and Olympia were surrounded by lots of their close friends and family, including Williams's mom, Oracene Price. The video included shots of the women wearing matching orange pajamas and laughing as the Olympic gold medalist opened gifts and basked in the relaxing fun of her spa day.
"I feel so loved today," Williams said. "Everyone's here. Family's here. We're all just relaxed. I feel loved and relaxed."