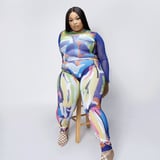 Fifty years ago, the sisterhood of hip-hop did not yet exist. The genre was still an infant and women were fighting to have their voices heard among the founding fathers, so competition between them was more encouraged than comradeship. Yet five decades later, emerging artist Maiya the Don finds herself in the middle of rap's female renaissance with fellow femcees supporting her at every turn. Not every up-and-coming woman rapper can say that.
"Everybody that I've engaged with has been nothing but sweet and welcoming," the 21-year-old tells POPSUGAR of her newfound rap friendships.
Starting out as a beauty creator on TikTok, Maiya didn't get her first taste of fame until her big moment arrived last October. "Telfy," the Brooklynite's first hit single – a flip of Sisqo's 1999 classic "Thong Song" and dubbed the official Telfar handbag anthem – was inescapable on social media as her designer-inspired, braggadocious bars made the rounds. "This dress look good 'cause I'm in it / Big body Range Rover, not rented," she raps with zeal. "I'm in my bag, I'm in my Telfy / Dripped down in Prada, shoes is Giuseppe." Soon thereafter, Maiya's name was everywhere.
After her lively arrival to the rap scene, Maiya's fanbase almost immediately demanded more material, and she answered back this year with singles like "Dusties," "Keep It Cute," and "Luv U Better." But nearly a year after reaching breakout success, the attention and fame are still an adjustment. "Sometimes I realize, all right, I can't do this or I can't say this," Maiya explains. "I don't think I'll ever get used to it."
What keeps the budding rap star grounded, though, is her supportive female hip-hop tribe, whose conversations have been about "more than just the music," she says. According to Maiya, fellow up-and-coming rapper Monaleo is "the sweetest soul" and gives her "a lot of advice," and Coi Leray – who gave Maiya a subtle shoutout with her 2023 BET Awards look – has been "super kind" to her. Collaborator Flo Milli, meanwhile, was "the first female rapper to embrace" her. "I love [her] so much. I consider her like a friend," Maiya gushes. "She's so supportive of everything. Every time I turn around she's there, you know?"
From current stars like Lola Brooke to icons like Lil' Kim, seeing "women supporting other women in any capacity" is fulfilling, Maiya says, especially considering their history in hip-hop. She shares: "Everybody has supported me in some type of way and I really appreciate it, because I was a consumer of all their music just a couple of months ago. So to go from a consumer to peer – and not only being just their peer but them appreciating my music and giving me props and kudos – is sweet."
"To go from a consumer to peer – and not only being just their peer but them appreciating my music and giving me props and kudos – is sweet."
Believe it or not, Maiya pivoted to music out of boredom. Though she grew up with a deep appreciation for writing poetry and playing instruments, her rap career began out of angst. "Doing TikTok full time, I found myself feeling super stagnant. I didn't feel fulfilled," she recalls. "I felt like I could be doing more, almost like this feeling of worthlessness. I was making people happy with my content and people enjoyed it, but I didn't feel happy doing it. It wasn't enough."
So she found a new outlet: the studio.
Recording music for fun, for her, is the "highlight" of her week "every time." And that passion drives her even as some may doubt her future in rap: "I genuinely enjoy making music. I think that's the most motivation that I need."
Maiya adds, "The moment that I stop having fun is the moment that I'll just decide to walk away, but I genuinely love it. I think my fans wanting more music from me and just that alone is all that I need."
Maiya's connections with hip-hop's OGs have been a source of motivation, too. She remembers how running into fellow Brooklyn native Fabolous at Fashion Week earlier this year was one of her "pinch-me" moments: "I just wanted to say hi because I love him and he knew who I was. He knew my songs. That was crazy. That was a moment." Not too long after, Maiya had another unexpected encounter with a rap star – this time, a phone call from Busta Rhymes. "He just was like, 'I love you and I love your song and I love your music,'" Maiya recalls, "so that was really cool."
"I feel like we're really taking over and doing our biggest one yet."
Maiya doesn't let those moments go to her head, though. Walking in the footsteps of her hip-hop predecessors, especially women who paved the way for her, keeps the rapper humble. "It wouldn't be Maiya the Don without every single person, from MC Lyte to Cardi B. Every single one of 'em has made their mark in some way for me to be able to do something in this industry," she says. "So I give props to every single [one of them]."
She wouldn't mind getting in the studio with any of them either, like Cardi, Lakeyah, or Brooke again (Milli's "Conceited" remix collab). She says, "Honestly, listen, anybody who needs a verse outta Maiya the Don, I'm a text away, forreal. I got a verse for all of them."
"Cause I'm a really big fan and I love what we're doing as women in rap," Maiya continues. "I feel like we're really taking over and doing our biggest one yet. So camaraderie and coming together as one to do one big thing is really important to me. I support everybody whether they support me or not. Love what everybody's doing."
Still on her "come-up" journey, Maiya is taking her time with her future releases as she builds her discography, so don't expect an album or EP just yet. "I'm still grinding, I'm still doing things to show people that I do this," she explains. "I'm still in the stage where I'm developing as an individual and an artist. I'm still learning. I'll forever learn though. I'm always a student."
While Maiya's keeping the rest of her moves close to the chest for now, her "biggest goal" remains making her younger self proud. And above all, she's focused on "having fun" – as she puts it, "that's where I'm at right now."