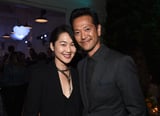 Jackie Chung's real-life relationship status couldn't be more different than that of her character on "The Summer I Turned Pretty." The actor, who portrays divorced author and mother Laurel Park in the Amazon Prime Video series, is happily married to fellow actor Louis Ozawa. The pair go way back, just like Belly and the Fisher boys. Though Chung and Ozawa have kept most details about their romance under wraps, we do know that they met while shooting a New York University graduate short film and have been together for more than a decade. "We did a screen test together," Ozawa told Forbes in 2020, adding, "So basically the first time we met was on camera."
The power couple have starred in several other onscreen projects together since then, including a 2008 short titled "Tomorrow Arigato," a 2015 drama called "Someone Else," and the 2019 indie film "Coming Home Again." Both have also added tons of other titles to their respective résumés through the years. Before "The Summer I Turned Pretty," Chung made guest appearances on "Station 19," "Grey's Anatomy," and "Deadbeat," while Ozawa was in Apple TV+'s "Pachinko," has a recurring role in the Amazon Prime Video series "Hunters," and just made his debut in "Tom Clancy's Jack Ryan" this summer.
Ozawa and Chung are supportive spouses, often promoting each other's projects on social media. Before "The Summer I Turned Pretty" season one premiered last year, Ozawa shared a photo from the show on Instagram, writing, "Can't wait to see my partner in crime @anotherjackiechung crush it in @thesummeriturnedpretty. . . . Many more good things to come Jackie!" Meanwhile, Chung posted a picture of Ozawa goofing off at the "Hunters" premiere in 2020, captioning it, "The hubs rocking the green carpet."
When they're not attending premieres or filming new projects, Chung and Ozawa are at home with their two children and honorary firstborn, an adopted pit bull mix named Atticus. The pup recently helped Chung debunk rumors about her age after Google falsely claimed that she's 62. "Only one of us is in our 60's," the 44-year-old wrote alongside a selfie with Atticus. "Guess which one? Hint: he enjoys chasing squirrels, eating bubbles and sniffing butts." Though their dog gets lots of face time on Chung and Ozawa's social media pages, the parents also offer occasional glimpses at their adorable kiddos, who are several years apart.
Before "The Summer I Turned Pretty" season two comes to a close, read ahead for a glimpse into Chung's offscreen family life.