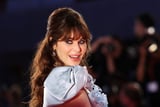 Zooey Deschanel has been in the public eye for nearly three decades, and she's accomplished quite a bit in her lifetime. She made her film debut in the 1999 film "Mumford," but arguably became well-known after starring in the beloved 2003 Christmas flick "Elf." Following her success from "Elf," Deschanel appeared in a number of popular movies throughout the remainder of the 2000s, including "The Hitchhiker's Guide to the Galaxy," "Yes Man," and the indie rom-com "500 Days of Summer," alongside Joseph Gordon-Levitt.
Film is not the only place Deschanel is popular, however. She is best known for her role as Jessica Day in the sitcom, "New Girl" and for being one half of the music duo, She & Him. Currently, she hosts a cooking show on Max called "What Am I Eating?" and stars as Kelly in the third season of AppleTV+'s "Physical."
Outside of her busy schedule, Deschanel likes to keep her personal life out of the spotlight, which also applies to her romances. The "Almost Famous" actor has been married twice. First, she was married to Death Cab For Cutie singer Ben Gibbard, and then she married producer Jacob Pechenik. Now, she is engaged to "Property Brothers" star Jonathan Scott, whom she met in 2019 while filming "Carpool Karaoke."
Over the years, Deschanel and Scott's sparks haven't fizzled. In a 2022 interview on "The Drew Barrymore Show," the "New Girl" actor gushed about her boyfriend, saying, "I couldn't believe he was so nice. People just aren't that nice generally – we've been together for over three years and he's still that nice. He goes over and fixes stuff at my parents' house."
Read on to learn more about Deschanel's romances over the years!