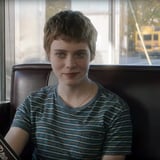 This interview took place in June 2023 as part of the Tribeca Film Festival.
Sophia Lillis and Hannah Gross could be sisters in real life. The pair have a rapport that seems like it might have developed across years of inside jokes and shared experiences, which makes it easy to see why they work so well as siblings alongside Michael Cera in the movie "The Adults," which hits theaters Aug. 18.
Gross and Lillis play sisters who live together in their childhood home in a suburban town that feels slightly faded, like a memory lived in too long. Rachel (Gross), who took over responsibility for the house after their parents' deaths, works at the local radio station, while Maggie (Lillis) has dropped out of college, claiming it stifled her creativity.
The fractures in the pair's relationship become visible when their older brother, Eric (Cera), arrives for a very brief visit for the first time in three years. Eric is clearly anxious to leave and would rather play poker than spend time with his siblings, and Rachel seems more than happy for him to leave. Meanwhile, Maggie, nostalgic for their childhood closeness, desperately wants him to stick around. That sometimes awkward, often regressive relationship between the three adult siblings forms the heart of "The Adults," and as it turns out, Gross and Lillis can relate.
Gross grew up with a younger brother, and they apparently did not have a good relationship as kids. "We hated each other," she tells POPSUGAR. "Or maybe more accurately, I really hated him for most of our childhood. It was a lot of displaced anger directed towards the easy target." Adulthood shifted the dynamic, though. "My brother doesn't hate me, but he certainly is the superior human being, probably from having to grow up and defend himself," she laughs.
"My brother and I kind of had a similar relationship," Lillis responds. Everything she and Gross say seems, in part, addressed to the other, and everything seems dipped in a sense of slight irony, as if they're perpetually trying to make one another laugh. "We love each other, but there was definitely a moment when we were kids where we just hated each other," she says. "At first, it was a physical-fight thing, and then it was just more of just like – every single morning, we apparently argued like a married couple, like, 'You don't love me anymore,' and 'You woke me up so early in the morning, I hate you.' It was almost exactly a textbook married-couple type of thing. It's really funny, actually, looking back on it."
Those dynamics are mirrored almost exactly in "The Adults," Lillis observes with slight amusement. In the film, the siblings' relationships definitely are often defined by annoyance and distance, but beneath that, there's insecurity, grief, and a desire to be loved. Eric's arrival finally spurs the siblings toward confrontations that seem to have been simmering beneath the surfaces of their detached, almost dreamy demeanors for a long time.
But even when confrontations do happen between the trio, the siblings aren't directly able to address one another. Instead, they wind up resorting to theatrical personas they used to adopt when they were children. Eric invokes a character named "Mopey-Mopey" to get through to Rachel, and soon the siblings find themselves taking on old roles and dusting off dances and songs they used to perform together. When they do finally open up about their struggles with isolation, depression, and anger at each other, it's as their characters, not as themselves.
Lillis, as it turns out, had a few characters of her own that she liked to play when she was young. "I had this character called Idiot Boy," she says, "and it was just basically an off-brand Mr. Bean. He'd get himself in situations, like he'd be in a paintball situation but he doesn't know he's in paint. I had a little voice and everything, apparently. I barely remember it."
"I think Idiot Boy needs a resurgence," Gross responds immediately. She also recalls putting on shows as a child alongside her best friend. "We'd coerce our younger siblings into performing in these productions with us that involved a lot of various characters," she says. "We also had ongoing games; we had three games that were on rotation for like, probably 10 or 12 years, and every time we hung out, we'd play the same characters."
Their love of performance has obviously extended into adulthood. Gross has roots in experimental theater and has previously starred in "Mindhunter"; she also worked with "The Adults" director Dustin Guy Defa on 2018's "The Mountain." Meanwhile, Lillis's breakout role was Beverly Marsh in 2017's "It," which led to appearances in bigger projects like 2023's "Dungeons and Dragons: Honor Among Thieves" and Wes Anderson's "Asteroid City." In both movies, Lillis found herself surrounded by megastars, from Scarlett Johansson to Chris Pine. "There were people coming in and out every two seconds," she says. But being surrounded by famous faces wasn't exactly fun for Lillis. ". . . I'm terrible with actors' names, so I just didn't know who I was talking to a lot of the time, and I didn't wanna offend them," she recalls, describing the experience as "nerve-racking."
The set of "The Adults" was a welcome contrast for Lillis. "It was funny going into this one, especially after the Wes [Anderson] one, where there were so many people and a lot of characters. You know, actors, they're great people, but actors are crazy. I'm one of them," she quips. After being around "so many characters," she says, sitting down with Gross and Cera was a breath of fresh air. Though their onscreen characters resort to put-ons and personas in order to communicate, in real life, being with Gross and Cera felt authentic; everyone could put down their masks.
While Eric adds tension to Rachel and Maggie's lives, it sounds like Cera himself was nothing but a delight to work with on set for Lillis and Gross. "He's a sweet, sweet dude," Lillis says. Lillis and Gross both clarify that they haven't seen or heard of the video "Michael Cera Flips Out" on YouTube – a semiviral clip of Cera throwing a fit on the set of "Youth in Revolt" that is almost definitely a staged performance, though Cera has never actually addressed it – but Lillis says she can't imagine Cera being a diva of any kind on set, noting that he was "down to earth and easy" to work with.
"It was – I don't want to use the word easy, but it was just calm, you know?" Lillis says. "The Adults," too, is a surprisingly muted exception to the bombastic big-budget juggernauts that tend to dominate movie theaters nowadays. It seems almost drawn out of the past, like a memory preserved on screen. The clear trust between the actors allows them to play off one another, peeling back their characters' layers of adulthood-imposed detachment until they reach the little kids, desperate for love and attention, that they still are at their cores.
"There was nothing wrong. It was a very calm set," Lillis recalls. "No one freaked out, ever."