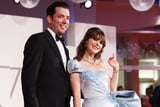 Ever since Zooey Deschanel and "Property Brothers" star Jonathan Scott connected on "Carpool Karaoke," the pair have transformed into a beloved celebrity power couple. Deschanel was previously married to producer Jacob Pechenik and met Scott in the midst of their separation in August 2019. Following their fun appearance on "Carpool Karaoke," they began dating, and their whirlwind romance has led to the couple buying a home together, coparenting her two children, Elsie and Charlie, and getting engaged.
Over the course of their four-year relationship, both Deschanel and Scott have been open about their love for one another, ranging from gushworthy TV interviews to magazine cover stories. After announcing that he and the "New Girl" actor bought a house together, Scott opened up about his love for Deschanel in a personal essay for the winter 2022 edition of the Scott Brothers magazine, "Drew and Jonathan Reveal," writing in part (via People), "Eight months into our relationship, I already knew Zooey was the yin to my yang, the PB to my J. We were on parallel paths toward the happiness we'd been seeking our whole lives."
Read on to learn more about the couple's sweet relationship milestones!