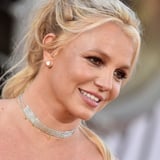 On Aug. 18, Britney Spears addressed her split from Sam Asghari for the first time. The pop star shared her statement via her Instagram, where she explained that she "couldn't take the pain" anymore. News broke on Aug. 16 that the pair were separating after one year of marriage.
"As everyone knows, Hesam and I are no longer together," Spears wrote. "6 years is a long time to be with someone so, I'm a little shocked but … I'm not here to explain why because its honestly nobody's business!!!"
She continued, "I couldn't take the pain anymore honestly !!! In some sort of telepathic way I have been receiving so many messages that melt my heart from friends and I thank you !!! I've been playing it strong for way too long and my Instagram may seem perfect but it's far from reality and I think we all know that !!!"
Spears added that she wished she could share her emotions more freely, but due to her life in the spotlight, she said she had been taught to be a "strong soldier." The "…Baby One More Time" singer also referenced her 13 years in conservatorship and the impact it had on her ability to freely express herself. Ultimately, Spears maintained that she's doing well under the circumstances.
"So I will be as strong as I can and do my best !!!" she wrote. "And I'm actually doing pretty damn good !!! Anyways have a good day and don't forget to smile !!!"
The singer's statement comes just one day after Asghari addressed filing for divorce in his own Instagram Story. "After 6 years of love and commitment to each other my wife and I have decided to end our journey together," Asghari wrote. "We will hold onto the love and respect we have for each other and I wish her the best always. Sh*t happens."
He added, "Asking for privacy seems rediculous [sic] so I will just ask for everyone including media to be kind and thoughtful."