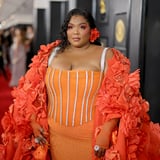 On Aug. 1, three of Lizzo's former dancers filed a lawsuit against the 35-year-old musician. In the suit, obtained by NBC News, plaintiffs Arianna Davis, Crystal Williams, and Noelle Rodriguez detailed the hostile work environment they allegedly endured during their time on tour, including weight shaming, verbal altercations, and forced participation in a sex show. They also claimed that the captain of Lizzo's dance team, Shirlene Quigley, frequently overshared personal details about her sex life and religious beliefs during rehearsals, identifying one of the plaintiffs as a "non-believer" and openly discussing the virginity of another in interviews and on social media.
On Aug. 23, the Los Angeles Times reported that Lizzo had reached a settlement with 14 dancers six months before news about the new lawsuit broke. In 2022, according to the outlet, 14 dancers alleged that behind-the-scenes footage of them was used without their consent in Lizzo's HBO Max documentary, "Love Lizzo." Alan Brunswick, a lawyer for the documentary's co-producer Boardwalk Pictures, denied the allegations to The Times and claimed the footage was captured "openly." After one of the dancers hired an attorney, Lizzo representatives and others signed confidential settlements with the dancers in February. The dancers released their rights to the footage and were paid for their appearance in the documentary, per The Times.
Also on Aug. 23, Lizzo's attorney, Marty Singer, told POPSUGAR in a statement that Lizzo intends to sue Davis, Williams, and Rodriguez. "The lawsuit is a sham," Singer wrote. "Lizzo intends to sue for malicious prosecution after she prevails and these specious claims are dismissed." In an email sent to POPSUGAR that same day, Neama Rahmani, president of law firm representing Davis, Williams, and Rodriguez, stated that "our clients aren't afraid of Singer or his empty threats or his victim shaming. I've handled thousands of cases, including prosecuting drug cartels so we have no plans to back down." Rahmini added: "Let's see if Singer can actually try a case in a courtroom instead of the media . . . We stand by every claim in the lawsuit and look forward to trial. We've been hearing from other former employees sharing similar stories, and as seen in the Los Angeles Times article today about how Lizzo used intimate footage of her dancers without their approval in the 2022 HBO Max 'Love Lizzo' documentary, we're seeing even more of a pattern of just how much Lizzo thinks of those who work for her. Clearly, not very much."
On Aug. 17, Lizzo's current dancers issued a statement in response to the news about the lawsuit in an Instagram post. "We had the time of our lives on The Special Tour," the statement reads. "We have been so honored to share the stage with such amazing talent. The commitment to character and culture taking precedence over every movement and moment has been one of the Greatest lessons and Blessings that we could possibly ask for."
It continued, "THANK YOU to Lizzo for shattering limitations and kicking in the door way for the Big Grrrl & Big Boiii Dancers to be able to do what we love! You have created a platform where we have been able to parallel our Passion with a purpose! Not only for Us, but for Women and All people breaking Barriers. We've been traveling and exploring new horizons of the world. So many advantages to prevailing over hardships that society and the entertainment and beauty industry can bring . . . So grateful that the standards and existence of Beauty in THIS team goes beyond the surface!"
In response to the dancers' support, Ron Zambrano – the attorney representing Davis, Williams, and Rodriguez in Lizzo's lawsuit – shared a statement with POPSUGAR on Aug. 18 that reads, "It's understandable that Lizzo's current employees would gush about her. They want to keep their jobs and maintain access to her global celebrity. But the comments change nothing about the allegations in the lawsuit."
Zambrano added, "More potential plaintiffs sharing similar stories of abuse and harassment are coming forward on a regular basis. We've heard from at least 10 former Lizzo employees since we filed the lawsuit and are reviewing their claims. Some of them will most certainly be actionable. Lizzo's job now is to try to do everything she can to limit the damage to her brand and save her career. Our job is to vigorously litigate this case on behalf of the plaintiffs based on the facts and we're confident the truth will prevail over the spin."
Lizzo previously addressed the allegations about her in an Instagram statement on Aug. 3, calling the situation "gut wrenchingly difficult and overwhelmingly disappointing." She wrote, "My work ethic, morals and respectfulness have been questioned. My character has been criticized. Usually I choose not to respond to false allegations but these are as unbelievable as they sound and too outrageous to not be addressed."
The singer continued, "These sensationalized stories are coming from former employees who have already publicly admitted that they were told their behavior on tour was inappropriate and unprofessional." Lizzo added that "passion" brings "hard work and high standards," but that she did not intend to make anyone feel uncomfortable.
"I am not here to be looked at as a victim, but I also know that I am not the villain that people and the media have portrayed me to be these last few days," she wrote. "I am very open with my sexuality and expressing myself but I cannot accept or allow people to use that openness to make me out to be something I am not. There is nothing I take more seriously than the respect we deserve as women in the world." She also said she was would "never" criticize or terminate an employee because of their weight.
Several stars have offered Lizzo support amid her lawsuit. Under the comments of her statement, Selma Blair wrote, "💛 this too shall pass," while Jameela Jamil commented, "❤️❤️❤️❤️❤️❤️❤️❤️." Meanwhile, on Aug. 14, Beyoncé said, "Lizzo! I love you, Lizzo!" while singing "Break My Soul (The Queens Remix)" during the third Atlanta show on her "Renaissance" tour, per a fan video on social media.
The same day Lizzo released her statement, TMZ shared a video of Davis praising Lizzo after some of the alleged incidents took place, which Davis addressed in a statement shared with POPSUGAR. "Of course, I wasn't going to say anything negative about the camp while I was still in it. Right up until the last minute, I didn't realize how bad it was and how much I was being taken advantage of," she wrote. "I just genuinely wanted to save my job. This video further explains how much I was trying to please Lizzo. But it was such a toxic work environment because throughout all the abuse, I was still trying to please her and make her think that I was good enough. This video was done before the bulk of our allegations occurred, and this was just me grasping at straws and my last attempt to make her see how committed I was to being loyal to her and her camp."
Neama Rahmani – who is president of West Coast Employment Lawyers, the firm representing Davis, Williams, and Rodriguez – also shared a statement. "Given Lizzo is denying that any of this happened, let's take it to trial," Rahmani wrote. "More witnesses are coming forward every day corroborating the plaintiffs' allegations, so we're looking forward to facing Lizzo and her team in court."
On Aug. 9, Davis, Williams, and Zambrano confirmed that additional people have come forward with allegations against Lizzo. "We have received at least six inquiries from other people with similar stories since we filed the complaint," he said in a statement shared with POPSUGAR. "Noelle, Crystal, and Arianna have bravely spoken out and shared their experiences, opening the door for others to feel empowered to do the same. Some of the claims we are reviewing involve allegations of a sexually charged environment and failure to pay employees and may be actionable, but it is too soon to say."
Lizzo's Lawsuit and Allegations, Explained
In the lawsuit, Davis accused Lizzo of drawing attention to her weight gain after noticing it at the South by Southwest festival, reportedly observing that she seemed "less committed" as a dancer. "The stunning nature of how Lizzo and her management team treated their performers seems to go against everything Lizzo stands for publicly, while privately she weight-shames her dancers and demeans them in ways that are not only illegal but absolutely demoralizing," the plaintiffs' attorney, Zambrano, said in a press release.
On the European leg of the tour, Lizzo reportedly invited her dancers to a strip club in Amsterdam called Bananenbar, and although not mandatory, the plaintiffs alleged that attending these extracurricular events meant better treatment and overall job security. At the club on Feb. 23, Lizzo allegedly "began inviting cast members to take turns touching the nude performers, catching dildos launched from the performers' vaginas, and eating bananas protruding from the performers' vaginas," per the suit. "Lizzo then turned her attention to Ms. Davis and began pressuring Ms. Davis to touch the breasts of one of the nude women."
After Davis initially refused, Lizzo allegedly began a chant, growing louder and louder and "demanding a visibly uncomfortable Ms. Davis to engage with the performer." The suit noted, "Plaintiffs were aghast with how little regard Lizzo showed for the bodily autonomy of her employees and those around her, especially in the presence of many people whom she employed."
The lawsuit also made note of alleged discrepancies in treatment based on race, saying Lizzo and her production company, Big Grrrl Big Touring, Inc. (BGBT), treated dancers of color differently than others. "BGBT's management team consisted entirely of white Europeans who often accused the Black members of the dance team of being lazy, unprofessional, and having bad attitudes," the suit alleged. "Only the dance cast – comprised of full-figured women of color – were ever spoken to in this manner, giving Plaintiffs the impression that these comments were charged with racial and fat-phobic animus."
Per the suit, Williams was fired in late April due to budget cuts. On May 3, Davis was also fired after recording a meeting between the dancers and Lizzo. Frustrated with how Williams and Davis were treated, Rodriguez resigned, which allegedly triggered a negative reaction from Lizzo.
"Lizzo aggressively approached Ms. Rodriquez, cracking her knuckles, balling her fists, and exclaiming, 'You're lucky. You're so f*cking lucky!' Ms. Rodriguez feared that Lizzo intended to hit her and would have done so if one of the other dancers had not intervened," the suit said. "Neither security nor management did anything to de-escalate the situation. As Lizzo left the room, she raised both her middle fingers and yelled, 'Bye, b*tch!'" Representatives for Lizzo did not respond to POPSUGAR's request for comment.