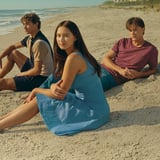 Watch out! This post contains spoilers for the "The Summer I Turned Pretty" Amazon Prime Video series and the book "It's Not Summer Without You" by Jenny Han.
"The Summer I Turned Pretty" season two ended with a bang on Aug. 18. While the season's main storylines stick to the book (Belly ends up with Jeremiah at the end of the season, just like she does in the second book, "It's Not Summer Without You"), there are still some major changes. And while changes to a book are always met with mixed feelings, one fans have welcomed with open arms is the show's added soundtrack.
Readers often imagine which songs would accompany iconic scenes if their favorite book were adapted into a TV series. Still, it's a whole different thing when you actually get to see Belly and Jeremiah kiss on screen to the beautiful accompaniment of Beyoncé's "XO" playing in the background. Some of the most pivotal scenes of the season are accompanied by Taylor Swift songs, and Lola Tung, who plays Belly in the series, tells POPSUGAR why Swift's catalog was so fitting.
"Jenny talked about how she was, like, listening to Taylor Swift while she was writing the book," Tung says. "A lot of her songs informed the story and sort of just perfectly kind of work. The lyrics work, and the music just works. I think she's a great storyteller. And so much of her music is just about love in all different forms. It's just kind of really fitting, and she kind of has a song for every single situation, which is really cool."
Swift's songs do, indeed, run the emotional gamut this season, from her song "Invisible String" serving as the soundtrack for Belly and Conrad's sweet winter date at the beach house to "Snow on the Beach" underpinning their blowout fight about why things fell apart on the same beach months later.
And while the added musical elements are a welcome addition for fans of the Summer series (especially when they're Swift songs!), one question that's on everyone's mind is: will Belly ultimately end up with the same Fisher brother she ends up with in the third book, "We'll Always Have Summer," or could that change?
According to Christopher Briney, who plays Conrad, anything could happen, considering the series's author, Han, is the showrunner. "I don't know," he says. "I think it's Jenny. . . . She could do whatever!"
When asked if it's intimidating to film scenes where they know precious moments from the books have been changed in ways that might rub fans the wrong way, Tung shares a surprising take. "I feel like sometimes, it's more daunting to bring the stuff that's word for word out of the book to life, because that's something that people have imagined in their heads for so long," she says. "And they see it in a very specific way, so that can be intimidating."
In other words, fans should be ready for anything to happen in season three, because nothing is written in stone – and Tung and Briney are clearly open to taking chances.
This interview was conducted before the SAG-AFTRA strike began on July 14.