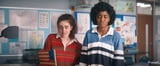 Whether you're in the mood for a thoughtful and serious drama, a fun and lighthearted comedy, or a documentary deep dive into real history, there are a ton of movies that focus on LGBTQ+ characters, storylines, experiences, and themes.
Movies like "Brokeback Mountain" shattered boundaries for LGBTQ+ representation on the big screen, and over the past several decades, depictions of LGBTQ+ stories have continued to evolve, with an ever-broadening range of stories and experiences taking the spotlight. In recent years, films like "Fire Island" and "Portrait of a Lady on Fire" have widened the scope of queer cinema, breaking new ground and constantly challenging stereotypes. And the canon of queer cinema has kept growing in 2023, with movies like "Bottoms," "Cassandro," "Red, White & Royal Blue," and "All of Us Strangers."
The movies on this list run the gamut from beloved comedies like "But I'm a Cheerleader" to sweet romances like "Let It Snow" to heart-wrenching dramas like "Call Me by Your Name" and "Moonlight" to classic documentaries like "Paris Is Burning." There's something here for everyone. From Oscar winners and big-name hits to under-the-radar faves, we've rounded up some of the most notable LGBTQ+ movies we've seen. Take a look through our list in the gallery ahead, and see which movies you've already seen and which you should add to your watch list.