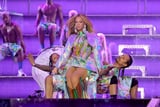 So many of our favorite artists have embarked on world tours this year, from Taylor Swift and Beyoncé to Blackpink and the Jonas Brothers. They've been performing back-to-back concerts in various cities around the world. Since stars often prepare for their tours weeks or even months in advance, their performances usually go without any mistakes. In order to double-check that everything is running smoothly, they also perform a soundcheck hours before their concert officially begins. However, a few mishaps here and there are pretty much inevitable, because sometimes things happen that aren't in their control.
For example, at the Jonas Brothers's Aug. 15 concert in Boston, a trap door broke down, which left a gap in the floor. Nick Jonas accidentally backed up into it, causing him to fall down. Thankfully, he didn't get seriously hurt and was able to prop himself back up to join Joe Jonas and Kevin Jonas at the center of the stage. While he was obviously caught by surprise, he didn't let that stop him from continuing with the performance. Moments like this show how stars handle mishaps with a bit of quick-thinking skills like the consummate professionals they are.
Ahead, you'll find nine of the most memorable concert mishaps of 2023.