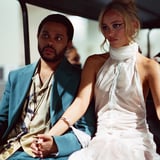 HBO has canceled "The Idol" – created by Abel "The Weeknd" Tesfaye, Sam Levinson, and Reza Fahim – after one season. On Aug. 28, a spokesperson for HBO confirmed the news to POPSUGAR, saying, "'The Idol' was one of HBO's most provocative original programs, and we're pleased by the strong audience response. After much thought and consideration, HBO, as well as the creators and producers have decided not to move forward with a second season. We're grateful to the creators, cast, and crew for their incredible work."
Reps for Tesfaye did not immediately respond to POPSUGAR's request for comment.
Speaking to POPSUGAR back in May, Da'Vine Joy Randolph – who plays Jocelyn's (Lily-Rose Depp) manager, Destiny – said everyone was hopeful the show would get picked up for a second season. "We really love doing this project and would love to do it again," she said. Jane Adams, who plays record label executive Nikki who works with Jocelyn, also told us she would've loved to return for a second season. "It's really thrilling working with Sam [Levinson]. He's wonderful to work with," Adams stated. "I have a lot of memories of good laughs."
Of what Randolph would've liked to see in the second season, she told POPSUGAR she would have loved an exploration of "Jocelyn and Tedros's [Tesfaye] relationship now at this new form and what that's like." She explained, "I think you would see more and more of the fact that Tedros actually is quite talented. I could easily see him perhaps even joining the team in some way, shape, or form."
"The Idol" tells the story of Jocelyn, a pop star dealing with mental health struggles while getting caught in the crosshairs of the predatory music industry. In addition to Depp, the star-studded cast includes Hari Nef, Troye Sivan, Jennie Kim, and Rachel Sennott.
"The Idol" experienced some creative turmoil; director Amy Seimetz exited the project and Levinson replaced her. A March Rolling Stone exposé alleged that the set was plagued by toxicity, particularly after Seimetz's exit, though A24 and HBO denied those allegations.
Randolph told Deadline that the Rolling Stone report's allegations were exaggerated. "I wouldn't even be a part of no mess like that," she said. "So for me, I just let people think what they think. But I was excited. We're not even out yet, and people are getting worked up." Randolph also noted that the attention is just feeding into the show's influence. "The way the world is now if you're getting that much buzz and it's not even out yet – that is the best press you can get," she said. "If nothing else, people are going to watch it."
– Additional reporting by Monica Sisavat