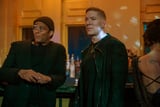 Watch out! This post contains spoilers.
After more than a year of waiting, "Power Book IV: Force" is finally back for season two. The fourth installment of the wildly popular "Power" franchise follows the story of Joseph Sikora's cutthroat character, Tommy Egan, as he leaves behind his New York City past to embark on an action-packed mission to become Chicago's biggest drug dealer. Season one of the series, which concluded in April 2022, ended with a deadly shootout, so of course, Tommy is out for blood and revenge in season two, where he'll encounter some new faces and foes.
According to Sikora's May interview with POPSUGAR, season two, which kicks off on Sept. 1, is "going back to the roots of 'Power,'" meaning, "we're hitting the streets hard." And per "Power Book IV"'s synopsis, a street war is brewing with new crews and law enforcement is cracking down, so there will be plenty of action to follow this season and new characters to get acquainted with.
"Power Book IV" continues the drama after "Power"'s sixth and final season, as well as "Power Book II: Ghost"'s season one finale. Though Tommy may be one of the only familiar faces to appear in the show, the rest of the "Power Book IV" cast are as eager as ever to carry on the franchise's legacy.
"We're all huge 'Power' fans," Gabrielle Ryan (who plays Gloria) previously told POPSUGAR. "What 50 Cent and Courtney Kemp have created with the 'Power' Universe is just incredible, and it's this cultural phenomenon that I think we're all just so thrilled to be a part of."
"Power Book IV" is full of talented actors and interesting characters aiding Tommy's story, so read ahead to get better acquainted with them all.