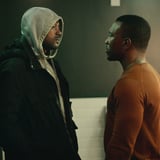 It all comes down to this. The final season of Netflix's "Top Boy" is just days away. After more than 10 years, the streamer will be airing the final season, and it's bound to be an intense one.
For the uninitiated, the show follows drug dealers Sully (Kane Robinson) and Dushane (Ashley Walters) as they navigate a scene of gang violence in Hackney, East London. The show first aired on the UK's Channel 4 in 2011 before being canceled. Drake then revived the show in 2017, with the help of Netflix, of course.
In the previous seasons, we've seen Sully and Dushane work together to run a drug empire and turn rivals. From turf wars to prison breakouts, there's never been a dull moment, mostly because no character can be fully trusted. There have been some iconic scenes, from the comedic to the downright shocking. Curtis's (Howard Charles) most evil moments rival any TV villain, not to mention the numerous kidnappings and that prison cafeteria boiling sugar water attack, to name a few.
Of course, so many "Top Boy" moments are made by the music that accompany them. Excitingly, pioneering composer and producer Brian Eno's contributions to the show's legendary soundtrack have been released digitally as well – just to increase the hype as we count down until "Top Boy"'s final season release date.
Half the reason we're desperate for the next season is to see the aftermath of Sully's murder of Jamie and how Dushane will react to his retirement plan being wiped out. Posters are dotted around London stating: "There can only be one." Who will come out Top Boy by the end of the series? Ahead, find out everything we know about the final season, including why it's ending.
"Top Boy" Season 5 Trailer
"Top Boy" Season 5 Plot
Netflix's official plot synopsis reads: "Sully's actions at the end of the last series have rewritten his business rules with Dushane. As new shared problems arise, everything they've built comes under threat from forces outside and within their empire."
It adds: "Can they coexist by the rules of the road they've lived by their whole lives in a world that is changing before them? Or can there only be one Top Boy?" It's fair to say viewers can expect a pretty explosive ending to the show.
"Top Boy" Season 5 Cast
Returning cast members include Kane Robinson, Ashley Walters (Asher D), Araloyin Oshunremi, Little Simz, Jasmine Jobson, Saffron Hocking, Adwoa Aboah, Natalie "NoLay" Athanasiou, Lisa Swan, Ava Brennan, and Erin Kellyman.
Barry Keoghan (whom you might recognize from "Dunkirk," "The Banshees of Inisherin," and "The Batman") is set to join the cast, too, although we don't know much about his character yet. He appeared in the final season's trailer looking over his shoulder with a menacing look. Who knows what's to come? Fellow Irish actor Brian Gleeson is also set to join "Top Boy" for its final ride. We suspect "I May Destroy You" star Michaela Coel might return for the final season as well, as she makes a blink-and-you'll-miss-it appearance in the trailer.
Of course, Micheal Ward will not be returning as Jamie, due to the fact that Sully killed his character at the end of season two. Kadeem Ramsay won't be returning as Kit due to the fact Jamie killed his second-in-command before getting murdered himself.
According to an interview with NME, we can expect to see much more of Oshunremi this season as Stefan. "Obviously, in the first season, I was a little kid just enjoying it," he said. "The second season, we just saw Stef being a moody teenager going through puberty, so I didn't really have to dive into something deep. Final season, my character's got a way bigger role." Now, Stefan is looking to avenge Jamie's death. Watch this space.
"Top Boy" Season 5 Release Date
The final season premieres on Netflix on Sept. 7.
Why Is "Top Boy" Ending After Season 5?
Aside from the fact that all good things must come to an end, it sounds like the cast were committed to ending the show "the right way," creating a chance to "come full circle." What this might mean for our favorite characters, we can only speculate, but a joint statement on Netflix's Tudum that coincided with the announcement of the final season (billed as season three, not five, on Netflix, as the platform discounts the Channel 4 series) describes the work on the "Top Boy" final chapter as "staying true to our original goal."
The full statement reads: "For those that have followed the journey from the start, you will know how much this show means to everyone on our team and we wholeheartedly know how much it means to you. These characters have been a part of our lives for over a decade now and without everyone's support we couldn't have come this far."
It continues: "Whilst the journeys of Dushane and Sully have remained at the core of the show, the new characters that have entered the world of Top Boy have become a key part of the show's legacy, representing each new storyline in a raw, authentic way. With all this being said, and staying true to our original goal, every story must have an ending and so season three will be our finale. A chance to come full circle and end the journey in the right way."