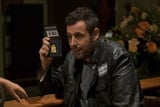 You can expect to associate the name Adam Sandler with Netflix for at least a little while longer. Since 2014, the actor has made nine movies and one comedy special for the streaming service. He was originally hired to make four movies in 2014, and the streamer renewed the deal in 2017 and again in 2020, per Business Insider. Since his latest deal, Sandler has released three films – "Hustle," "Murder Mystery 2," and "You Are So Not Invited to My Bat Mitzvah," and at least one more is on the way. Over the years, the deal has also given us gems like "Murder Mystery" and "The Week Of" as well as a couple of misses – who can forget "The Ridiculous 6"?
Sandler has long been a beloved force in comedy thanks to memorable roles in the likes of "Happy Gilmore" and "Billy Madison." In recent years, he's shown off his dramatic side, with his starring role in "Uncut Gems" garnering extensive acclaim. Still, comedy has always been Sandler's bread and butter, and with "You Are So Not Invited to My Bat Mitzvah," which premiered on Aug. 25, he returns to his roots with the dad jokes and hilarious mishaps he's best known for. His comedic work has even earned him the Mark Twain Prize For American Humor, which he received in a ceremony on March 19.
Many of his Netflix projects have been critically panned, but Sandler doesn't seem to be bothered by that. "When someone asks me: those bad reviews you get – how does that make you feel?" he said at the ceremony, per The Hollywood Reporter. "The reason they don't hurt me is because [my friends and I are having so much fun making these movies]. Everything we do together makes me feel like the critics don't know what they're talking about."
In honor of "You Are So Not Invited to My Bat Mitzvah" and the comedic force that is Sandler, check out all of the movies Sandler has made as part of his partnership with Netflix so far.