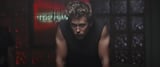 The new trailer for "The Bikeriders" just dropped, and with it came the question: will we hear Austin Butler's own voice ever again? Having just shaken his infamous Elvis Presley drawl, the Sept. 6 teaser proved that old habits die hard for certain Oscar nominees. In his new role as Benny – the daring bad-boy of the fictional Vandals motorcycle club in Chicago – Butler tries his hand at a Midwestern accent. Abandoning any friendly "you betchas," he rarely speaks above a low growl, leaving costars Tom Hardy and Jodie Comer to cover most of the lingual bases.
Butler previously forgot to stop speaking like the King of Rock n' Roll long after filming on "Elvis" wrapped in 2021. He told Graham Norton that all the discourse on social media initially made him feel "self-conscious," attributing the change in his voice to the singing he did for the movie. Later, at the 2023 Golden Globes, he admitted it was hard for him to distinguish between his own voice and Elvis's. "I can't really reflect on it too much. It's just this process – I don't know the difference," he said. "I don't think I sound like him still, but I guess [it must be] because I hear it a lot."
To be perfectly honest, we're not all that mad at this new Midwestern Butler. Although we have yet to hear more than a few words from his unpredictable character (including, "you'd have to kill me to get this jacket off"), assuming the same "process" is at play, we're prepared to hear this accent well after "The Bikeriders" drops on Dec. 1. Read on to find out everything else we know about Butler's upcoming appearance.