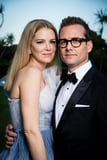 Gabriel Macht and Jacinda Barrett may have played love interests on "Suits," but their nearly two-decade-long romance is an even more beautiful story. The actors have been married since 2004 and share two children, son Luca and daughter Satine. While the two remain primarily tight-lipped about their personal lives, Barrett and Macht's Instagrams show just how much fun they have with their children.
In April 2016, Macht spoke to Woman's Day about how his family is the most important thing in his life. "I'm a family man," he told the outlet at the time. "My relationships with my wife and my kids are my priorities. And I have the utmost confidence in my love for my family and I prioritize that."
Macht also shared how he differs from his "Suits" character, Harvey Specter. "Harvey really prioritizes work and closing a deal. He can be a lot of fun at times but he's got way more testosterone-driven angst and a lot of anxiety and that's just not where I operate from," he explained.
To find out more about Macht and Barrett's two kids, scroll through this gallery.