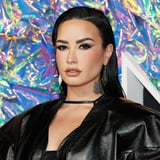 Demi Lovato is opening up about the inspiration behind "Cool For the Summer." In an interview on "The Howard Stern Show" on Sept. 11, Lovato revealed the song is about a woman – something fans had long understood based on the lyrics, which describe having a "taste for the cherry," among other hints. During the interview, Lovato revealed that when they came out as bisexual to her dad, he told her he actually already knew because of "Cool For the Summer." Stern went on to ask if the woman who the song is about knows that she inspired it, to which Lovato responded, "No." When Stern asked if the woman in question is famous, Lovato confirmed that she is, but also said that they're not about to go and reveal any additional details, citing the fact that she's "in a relationship now" and "that would be inappropriate."
Lovato went public with their relationship with the musician Jutes in August 2022, and she also discussed their relationship in the interview with Stern, saying she and Jutes have "talked about" marriage and kids. Lovato is also set to release an album of her hits reimagined as rock songs called "Revamped" on Sept. 15.
Way back in 2015 when "Cool For the Summer" was released, Lovato addressed speculation that the song might be about a woman in an interview on "Alan Carr: Chatty Man" in London. When the host of the show brought up the meaning behind "Cool For the Summer" and said the lyrics (especially the parts about "being a little curious too" and getting "a taste of the cherry") seem to be about a relationship with another woman, the singer said they're "not confirming and definitely not denying" that it might be about experimenting with her sexuality, adding, "All my songs are based off of personal experiences."
Watch Lovato discuss the song with Howard Stern above.