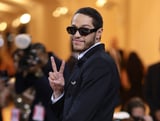 Pete Davidson's love life is a little infamous at this point, but the comedian doesn't really appreciate all the buzz. "I'm in my 20s and I've dated people. And for some reason, that's very crazy and interesting to people," he said in an interview on the "Real Ones With Jon Bernthal" podcast on March 30, per Entertainment Tonight. "I don't think it's interesting. I've been in show business for, like, half my life almost – for 14 or 15 years, and on a national TV show. In 12 years I've dated 10 people. I don't think that's that crazy, but to some people, that's very interesting. That became all anyone would talk about."
In the interview, Davidson said most of his relationships have resulted from his time on "Saturday Night Live." "I'm not, like, flexing, you know what I mean?" he said. "These people that I've dated, I met them at work. I wasn't in anyone's DMs, no one was in mine. Suddenly you're in this zeitgeist and that has nothing to do with the work," Davidson added of the notoriety his relationships have brought him. "And that's a really sh*tty feeling."
Still, Davidson's relationships have seemingly catapulted him from a notable "SNL" cast member to a full-on superstar. The 29-year-old comedian has dated some of the most famous women in the world over the years, including Ariana Grande, Kaia Gerber, Phoebe Dynevor, and Kim Kardashian – whom he parted ways with in August 2022 because their busy schedules reportedly got in the way of their relationship, per E! News.
In the past, Davidson has been transparent about his romantic woes, explaining that they've all taught him how to better handle his relationships. In a May 2021 interview with "The Breakfast Club," the comedian said he's "just very, very honest" with the women he dates and doesn't like "playing any of the games."
Ahead, take a look at all of Davidson's past partners, as well as what we know about their relationships.