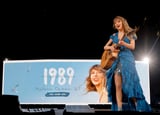 "1989 (Taylor's Version)" is officially on the way. During the last stop of the first leg of the Eras Tour on Aug. 9, Taylor Swift officially announced that the next "Taylor's Version" – the rerecording of her seminal 2014 album – will arrive Oct. 27, the ninth anniversary of the album's original release. Swift announced the news before playing "New Romantics" as the first surprise song during the show. She wrote on Instagram alongside the new album artwork, "Surprise!! 1989 (Taylor's Version) is on its way to you 🔜! The 1989 album changed my life in countless ways, and it fills me with such excitement to announce that my version of it will be out October 27th. To be perfectly honest, this is my most FAVORITE re-record I've ever done because the 5 From The Vault tracks are so insane. I can't believe they were ever left behind. But not for long! Pre order 1989 (Taylor's Version) on my site."
Eagle-eyed Swifties thought that the "Out of the Woods" singer was teasing the arrival of "1989 (Taylor's Version)" for months. On July 7 – yes, the same day she released "Speak Now (Taylor's Version)" – Swift posted photos from this year's Fourth of July party on her Instagram. "Happy belated Independence Day from your local neighborhood independent girlies," she wrote in the caption. In the photos, Swift poses with some of her closest friends, including Selena Gomez, the Haim sisters, and Ashley Avignone. The shots also include a set of four Polaroids. During the original "1989" era, Swift was all about her "squad" of friends, and she often posted photos – and Polaroids – from their hangouts. In fact, Swift also revealed on Aug. 10 that the new deluxe editions of "1989 (TV)" will also have polaroids in them.
The original "1989" (named in honor of the year of Swift's birth) is considered to be the demarcation point in Swift's transformation from country star to pop powerhouse. It finished 2015 at No. 1 on the Year End Billboard 200 Albums chart and won album of the year at the 2016 Grammys. It was also supported by seven singles, three of which – "Shake It Off," "Blank Space," and "Bad Blood" – went No. 1 on the Billboard Hot 100. To call "1989 (Taylor's Version)" highly anticipated would be a major understatement.
Fans have already scored two "Taylor's Version" songs from "1989," and in the summer of 2022, Dwayne "The Rock" Johnson and Kevin Hart served up the first snippet of "Bad Blood (Taylor's Version)." That July, the duo were promoting their film "DC League of Super-Pets," and they shared on Twitter that some of "Bad Blood (Taylor's Version)" would feature in the movie. The movie also features "Message in a Bottle (Taylor's Version)," which was a vault track on 2021's "Red (Taylor's Version)." But Swift didn't release a full version of the new "Bad Blood" last summer, despite fan speculation. Instead, that August, Swift surprised music-lovers when she announced her new album, "Midnights," which was released in October.
Ahead, here's everything we know about "1989 (Taylor's Version)," including the two songs you can listen to right now.