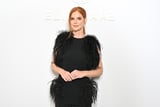 Sarah Rafferty has appeared in many beloved series like "Suits," "Grey's Anatomy," and "Chicago Med." Up next, she's set to star in Netflix's "My Life With the Walter Boys," in which she'll play matriarch Dr. Katherine Walter, who is the mother of 10 boys and married to rancher George, played by Marc Blucas. Similar to her character, Rafferty is also a mom in real life. Rafferty and her husband, Santtu Seppälä, are the parents of two girls. Their oldest daughter is named Oona Gray, and their youngest daughter is named Iris Friday.
While Rafferty may constantly be in the spotlight, her family prefer to stay away from the cameras. According to her husband's LinkedIn page, Seppälä is a businessman in Los Angeles. And despite the fact the couple have been married since 2001, Rafferty and Seppälä make very few public appearances together. In May 2018, the pair notably attended Prince Harry and Meghan Markle's wedding together.
Fans have only continued to get a glimpse into Rafferty and Seppälä's family life on Instagram. However, since the couple are protective when it comes to their kids, Rafferty has only shared a handful of details about Oona and Iris.
Keep reading for everything we know about Rafferty's kids.