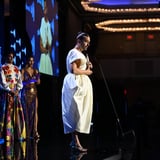 "I'm emotionally exhausted." That's what Jonathan Van Ness – activist and beloved star of the Netflix show "Queer Eye" – said to actor and "Armchair Expert" podcast host Dax Shepard last week. And it was a sentiment that's continued to resonate among the LGBTQ+ community since.
During a Sept. 25 interview with Van Ness on his podcast, Shepard, of "Parenthood" fame, told Van Ness he supports almost all trans rights. But he also argued whether trans women should be able to compete in sports against cis women and said people have real concerns about certain trans rights, including whether youths should be allowed to transition.
After citing studies demonstrating that trans people are not dominating women's sports, don't have unfair advantages due to their biology, and arguing that trans people are being used as a scapegoat by conservatives, Van Ness was eventually moved to tears.
"I could just, like, cry, because I'm so tired of having to, like, fight for little kids because they just want to be included," Van Ness said. "I wish people were as passionate about little kids being able to, like, be included or grow up as they were about fictitious women's fairness in sports. I have to tell you, I'm very tired." (Reps for Van Ness and Shepard did not immediately respond to POPSUGAR's request for comment.)
"This is about people's real lives and humanity."
According to Joanna Hoffman, director of communications at the trans sports advocacy organization Athlete Ally, debating whether trans people can play sports is effectively debating whether or not trans women and trans children can exist as they are in all parts of their life.
"This is not a philosophical argument – this is about people's real lives and humanity," Hoffman said. "Celebrities like Dax have an opportunity to move hearts and minds towards greater compassion and understanding. He instead chose to further disseminate the misinformation and myths that lead to not only discrimination, but actual violence against transgender people."
For a nonbinary trans person like Van Ness, such conversations are emotional and tiring for many reasons. Although some people purport to play "devil's advocate" on hot-button issues, these conversations often, as Hoffman pointed out, erase trans people's identities and experiences. And for many in the LGBTQ+ community, such exchanges reveal the deep need to educate more people about the lived experiences of trans youth; the reality of trans athletes competing in women's sports; and the ways in which allies can be substantively supportive.
Breaking Down the Debate Around Trans Athletes
A growing number of people have argued that trans women and girls have an advantage over their cisgender peers in sports, with conservatives rallying around the issue at state legislatures nationwide as well as the presidential campaign trail. A number of sports governing bodies, including the NCAA, have implemented restrictions on trans participation in women's sports, too.
The political climate has reached fever pitch over the last couple years, with 23 states passing laws that ban transgender youth from participating in school sports, according to the nonprofit think tank Movement Advancement Project.
Trans women and girls are "widely underrepresented in women's sports."
The anti-trans rhetoric and discrimination has translated to all-out bans on gender affirming care for trans youth in a growing number of states – and have prompted calls for outright bans on gender affirming care for adults as well. Today, 35 percent of transgender youth now live in states where gender affirming care has been banned, according to the Human Rights Campaign.
But many of these arguments aren't supported by research or the reality of what's happening in people's day-to-day lives. And though there's been inflammatory rhetoric around trans athletes in particular, the Associated Press found that in many states where conservative politicians are passing sports bans, legislators can't cite "a single instance in their own state or region where such participation has caused problems."
A recent report published by the organization E-Alliance and commissioned by the Canadian Centre for Ethics in Sport found that while strength may persist, there is no evidence indicating that trans women have any performance advantage compared to elite cis-women athletes of similar size and height.
And, a study by the British Journal of Sports Medicine found that trans women in the US Air Force had slightly faster running speeds on average than their cisgender peers after two years on hormones. However, their muscle strength was indistinguishable from their cisgender peers. The study's author has also said that trans teens who take puberty blockers and then estrogen treatments "probably have absolutely no advantage."
As Van Ness told Shepard, sports are inherently unfair – especially for those with fewer resources due to poverty – while top athletes such as 23-time Olympic gold medal-winning swimmer Michael Phelps, who have inherent biological advantages and are cis, are celebrated.
"A lot of the rhetoric around anti-trans inclusion and the anti-trans backlash does have a lot of misinformation and disinformation in it," Van Ness explained. "When you aren't personally impacted by an issue, for people who are, it's just a bit exhausting."
Indeed, beyond whether there is a measurable advantage, sports have never been fair in the first place, added Jack Drescher, MD, a clinical professor of psychiatry at Columbia University and a faculty member of Columbia's Division of Gender, Sexuality, and Health.
"Singling out trans girls because some of them might have had a little more testosterone when they were younger, that's not about fairness," Dr. Drescher said. That's "pure meanness."
Athletes come in all shapes and sizes, and research shows that athletic ability is based on a number of different factors, Hoffman added. "To spread misinformation and fear about trans women and girls is harmful and irresponsible," she said.
There are also many reasons why a trans kid may want to participate in school sports.
Organized sports can help young children develop and improve their cognitive skills and achieve academically with better concentration, attention, classroom behavior, grades, and standardized test scores, according to the Aspen Institute. Organized sports have been linked to achieving success in higher education, helping women become corporate executives, and improving the long-term mental health outcomes of children who have experienced trauma.
Trans women and girls also participate in sports for the same reason other people do: to feel connected to a community, to stay active, and to have fun doing something that they love, Hoffman said.
But only 12 percent of transgender girls reported playing on a sports team, according to a 2017 survey of over 17,000 13-to-17 year old LGBTQ+ teens by the Human Rights Campaign.
There are no exact figures on the number of transgender student athletes, because not all are out and, in some cases, that data isn't tracked, said Hoffman. But trans women and girls are "widely underrepresented in women's sports," she said.
The Real Dangers Facing Trans Youth
Most crucially, the ongoing debate and rollback of trans rights is causing actual harm to trans youth.
Studies show that gay people living in states that passed constitutional amendments to banning gay marriage in the 2000s suffered adverse mental health consequences, said Dr. Drescher. Meanwhile, when families need to flee states due to anti-trans laws, it is making the lives of their transgender children more difficult, he added.
"One can only imagine what future studies of those kids and their families will look like," Dr. Drescher said.
Hoffman added that medical providers believe athletic ban bills will lead to increased discrimination and worsened mental and physical health of trans youth. Two-thirds of LGBTQ+ youth reported in a 2022 Trevor Project poll that efforts aiming to roll back the rights of trans and nonbinary people negatively affected their mental health. That's not to mention research has already shown that transgender people face increased risk of violent crime and mental health problems.
"You need allies to join with you to kind of speak out on this impact."
So, when popular cis allies push back against certain trans rights, it's just further detriment to a community that's already facing disproportionate challenges to simply survive.
Allies like Shepard have a certain level of power and privilege in society, and when they use their platform to play devil's advocate, they are not simply having a theoretical discussion, said Elliot Tebbe, PhD, LP, an assistant professor at the University of Wisconsin, Madison, and a psychologist who studies health disparities among LGBTQ populations.
"The difference for somebody who really experiences firsthand the impact of the legislation, the discourse around the legislation, it's not a theoretical argument, it's a very real impact," Tebbe added. "I think that comes with a sense of potentially betrayal that during this time where you need allies to join with you to kind of speak out on this impact."
And, he added, a trans person may feel blindsided by the conversation, where they expect the negativity from one direction "and feel it come from within," Tebbe said. "That can be particularly disappointing and painful in its own way."
How We Can All Support the Trans Community
Hoffman said that allies can be more supportive of trans people by taking time to listen to the lived experiences of transgender athletes, and by keeping an open mind and learning versus making assumptions.
According to the Human Rights Coalition, allies should also do their own research versus asking a trans person uncomfortable, inappropriate, or intrusive questions – turning to books, videos, podcasts, and articles instead of "putting the emotional burden on one person in your life to speak for a community."
And, according to the Trevor Project, if an ally does offend a trans person, intentionally or not, they should sit in their discomfort, listen, and try to understand and empathize with the other person's lived experience. The LGBTQ+ suicide prevention nonprofit added that allies should also take responsibility for their actions, as well as acknowledge the privileges and experiences that could contribute to their biases.
Van Ness told Shepard during the podcast that he's a nonbinary trans person, and it's difficult to have conversations even with loved ones when they try to present counter arguments without knowing the full story or doing their research. And, he added, Shepard doesn't need to be transphobic to hold transphobic ideologies or beliefs.
According to Hoffman, people need to work to see the humanity in others. "Transgender girls and women are not a monolith, and there is not a single person who has ever transitioned to win anything," she said. "People transition because living as their authentic self is necessary for their survival."
For more information on how to be a good ally during conversations with trans people or when speaking about trans rights, check out these resources from the National Center for Transgender Equality, GLAAD, and the American Civil Liberties Union.