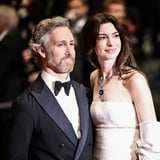 You know Anne Hathaway as an onscreen princess (hello, "The Princess Diaries"!), but did you know she's also a mom of two? Since marrying her husband, Adam Shulman, in 2012, the actor has welcomed two boys. Although Hathaway's incredibly private about her home life, she's shared snippets about her little ones here and there.
On July 24, 2019, Hathaway announced that she was officially expecting her second child. In an emotional Instagram post, she shared that it "was not a straight line" to either of her pregnancies, alluding to struggles conceiving, and encouraged other women who are experiencing infertility to hang in there.
In October 2022, Hathaway opened up about how having kids has made her pickier when selecting projects. "I have to say, the 'kids' thing has been the biggest shift," she told SiriusXM's "The Jess Cagle Show," per People. "That's kind of reprioritized everything, so it's actually made me a bit choosier because something really has to be so excellent to spend time away from them because they're so precious to me." She added, "They're the most sacred part of my life by a long shot. And then when I do accept something, it puts greater pressure on me to make it worth the time that I've spent away from them."
Read on to learn everything we know about Hathaway's sons so far.
Jonathan Rosebanks Shulman
Hathaway and Adam welcomed their first child, Jonathan Rosebanks Shulman, into the world on March 24, 2016. Like some celebrities who enjoy their privacy, Hathaway doesn't typically share photos of Jonathan on social media.
In a January 2021 interview with Jimmy Fallon on "The Tonight Show," Hathaway said that staying home with Jonathan – or "Johnny" as she calls him – amid COVID-19 has been relatively easy. He "believes everything we tell him, and that's adorable as well as very useful," she explained. She also noted that his gullible nature made parenting around the holidays a breeze, especially when he refused to share with his little brother. Apparently, mentioning that Santa is watching his every move is "so powerful."
Jack Shulman
While we don't know his exact birthday, Hathaway confirmed the name of her son Jack in an October 2020 episode of "Live With Kelly and Ryan," saying, "Now I have a beautiful almost-11-month-old boy, but I was pregnant when I made 'The Witches,' so technically he's all over that performance." According to the mom of two, her sons couldn't get along better. "Now Jack's big enough to wrestle with, and that's brought a new element to their relationship that's really cute," she said.