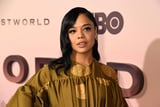 If you've found yourself wondering why you can't recall any of Tessa Thompson's past relationships, that's because she's famously known for keeping details about her personal life private. In fact, the romantic relationship Thompson has talked about most publicly isn't even one that happened in real life: her onscreen relationship with Michael B. Jordan in the Creed franchise.
Thompson told Refinery29 in March that she and Jordan went to couple's therapy as their characters Adonis "Donnie" Creed and Bianca in order to better portray their relationship onscreen, but in the process, it helped them learn more about their own real-life relationships.
"The line sometimes between character and us get blurred because we bring so much of what we're exploring personally to the characters in general," Thompson said. She added that they were "also reflecting on our own relationships" that they've had over the eight years they've worked together on the franchise. She continued, "We've seen each other through various stages in our own romantic things," adding, "We know stuff about each other's lives. We shared and talked about it. So therapy ended up starting at work and getting more personal."
When it comes to whom Thompson loves and why she's private about it, the star did open up to Porter Edit back in 2018. "I can take things for granted because of my family – it's so free and you can be anything that you want to be. I'm attracted to men and also to women. If I bring a woman home, [or] a man, we don't even have to have the discussion," the 40-year-old actor told the outlet. "I want everyone else to have that freedom and support that I have from my loved ones, but so many people don't."
While Thompson never dated Jordan, ahead, you can read everything we know about Tessa's actual rumored relationships, including with Janelle Monáe and Rita Ora.