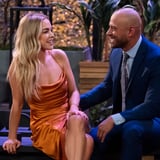 Image Source: Netflix
The live "Love Is Blind" season four reunion was a logistical sh*t show, to say the least. Following passionate feedback from frustrated viewers, Netflix announced that the season five reunion will not be live-streamed. Instead, the prerecorded reunion special will premiere on Oct. 15 at 5 p.m. PT (8 p.m. ET).
While live television is well-suited for award shows and halftime performances, allow us to refresh your memory about the chaos that ensued during last season's "Love Is Blind" reunion.
The season four "Love Is Blind" reunion was initially intended to be a live event, capturing the unfiltered dialogue between some of our favorite couples and the season's most notable exes. But the drama would unfold well before the reunion actually began. Viewers on all coasts tuned in for the live reunion at the announced start time on April 16, and over an hour later, Netflix announced that the episode would be premiering later than expected. The reunion was ultimately delayed 19 hours and didn't premiere until April 17, a day later than promised.
The delayed start time sent several dedicated fans in a frenzy, with many staying up late or waking up early in the hopes of catching the reunion as soon as possible. "To everyone who stayed up late, woke up early, gave up their Sunday afternoon . . . we are incredibly sorry that the 'Love is Blind' Live Reunion did not turn out as we had planned. We're filming it now and we'll have it on Netflix as soon as humanly possible," the streamer previously posted regarding the technical difficulty. "Again, thank you and sorry."
Speaking with The Hollywood Reporter three months after the incident, the show's creator, Chris Coelen, said the reunion snafu was painful for him to watch, too. "Normally in that situation, I'd be in the control room," he said. "I'd be in the host's ear. And I wasn't. I lost my mind. I was sitting in front of my TV like, 'What is happening? Give me the updates. What's going on?'" Coelen added that the idea to host a live reunion special originally came from Netflix "and we all had some misgivings about it."
Though the season four reunion was ultimately unsuccessful, it seems the streaming platform is learning from its past mistakes. With less room for error, the season five "Love Is Blind" reunion might not be as messy as the last, but chaos is definitely still in the cards for some couples. And after an underwhelming season overall, we're more than ready to drink up any post-season revelations, gold wine glass in hand.