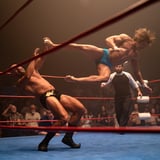 "The Iron Claw" stars Zac Efron and Jeremy Allen White as two members of one of the most famous (or infamous) wrestling families of all time: the Von Erichs. Led by their fierce father, the Von Erich brothers became mainstays of the professional wrestling world in the heyday of the 1980s, but their professional successes were marred by an enormous number of personal tragedies, leading to rumors that they were somehow cursed. In real life, their stories seem to have more mundane explanations, but whatever the cause, the tragedies were devastating nonetheless.
Content warning: The following contains mentions of drug use, eating disorders, and suicide.
The Von Erich Curse
Because of the high number of shocking tragedies and early deaths that befell the family – and the highly dramatic nature of the professional wrestling world – rumors have abounded that there is a "curse" on the Von Erichs that led to their demise. In his book "The Squared Circle: Life, Death, And Professional Wrestling," author David Shoemaker shares one of the most widely spread versions of the rumor: after portraying a fictionalized Nazi villain early in his career, Fritz Von Erich was confronted by the ghost of a Holocaust survivor who lost his sons in the death camps and was "cursed" by the spirit.
While stories like this certainly seem like spooky tales made up for publicity, the fact remains that the Von Erich family – specifically, Fritz's sons – suffered an unusually high number of tragedies.
What Happened to Fritz Von Erich?
Born Jack Adkisson, the patriarch of the Von Erich family began his career in football in college, but his football career was cut short by injury. In the 1950s, he switched to wrestling, and from there, he built a decades-long career both as a champion wrestler and as a promoter. One of his signature moves was the "Iron Claw" hold that now lends its name to the new movie recounting the Von Erichs' story.
Fritz married his wife Doris in 1950, and they had six sons, five of whom followed their father into the wrestling world, and whose own lives were touched by tragedy. In 1997, Fritz was diagnosed with lung cancer that had spread to his brain and adrenal glands, according to the Associated Press. He died just a few months later, in September of the same year. Only one of his sons outlived him.
What Happened to Jack Von Erich?
The eldest Von Erich son, Jack Jr., died the youngest in a tragic, freak accident. According to D Magazine, In 1959, at the age of 7, he touched a live wire while he was playing in the trailer park in Niagara Falls, Ontario, Canada. He was electrocuted and fell face down in a puddle and drowned.
What Happened to Kevin Von Erich?
The second-oldest Von Erich son took on the nickname the "Golden Warrior" in his wrestling career, mostly in the World Class Championship Wrestling (WCCW) promotion. Along with his brothers David and Kerry, he was pitted against a trio called the Fabulous Freebirds, a set of tough-talking "bad boys" set up to be the antagonists to the Von Erichs' "golden boys" image.
"Dad never, ever said we had to wrestle, or that we even ought to," Kevin told D Magazine in 1988. "But we all knew what was going to happen in the end. It was inevitable. We were going to go into wrestling because we wanted to be just like our dad."
Kevin married his wife Pamela in 1980, and they had four children and, later, seven grandchildren. Two of his sons, Ross and Marshall, also went into wrestling. Kevin also became the only one of his siblings to outlive their father.
What Happened to David Von Erich?
David, the third son of the family, was called the "Yellow Rose of Texas" as a wrestler. Like his brother Kevin, he spent time in the WCCW, as well as a few stints in other territories. He won the Missouri Heavyweight Championship multiple times. In 1978, he married his first wife, Candy, and they had a daughter who died in infancy. The couple later divorced, and he went on to marry his second wife, Patricia.
In 1984, while on tour in Japan, David complained of severe stomach pain. He soon collapsed and died in his hotel room at the age of 25. According to the US Embassy's report on the death, he died from acute enteritis, a serious infection or rupturing of the intestines. Nevertheless, darker rumors followed his death, including that drugs or bulimia were the real culprits.
What Happened to Kerry Von Erich?
The fourth son, Kerry, was called "The Modern Day Warrior" and "The Texas Tornado," and he arguably became the most well-known wrestler out of all the brothers. He spent most of his career in the WCCW, like his brothers, with notable matchups, even winning the NWA World Heavyweight Title. He married his wife Cathy in 1983, and they had two daughters before divorcing in 1992; one of their daughters, Lacey, had a wrestling career of her own before retiring in 2010.
The deaths of two of his brothers, as well as the amputation of his foot after complications from a motorcycle accident, took a toll on Kerry. Fellow wrestler and friend Bret Hart later wrote in his book, "Hitman: My Real Life in the Cartoon World of Wrestling," that Kerry's mental state severely declined as his marriage fell apart and he grieved his brothers. According to Hart, Kerry had mentioned his suicidal thoughts to him, saying his brothers were calling to him. In 1993, Kerry died by suicide at age 33.
What Happened to Mike Von Erich?
Nicknamed the "Inspirational Warrior," Mike was the second-youngest son of the Von Erich family. Despite initially preferring a behind-the-scenes role, he wound up in the ring, too, joining Kevin and Kerry as the third member of their trio after David's death. In 1985, he married his wife, Shani.
That same year, Mike landed in the hospital with toxic shock syndrome following surgery on his injured shoulder. Despite significant organ damage and a shockingly high fever, he survived, but he was never the same. He attempted to return to wrestling, but no longer had the strength or mental acuity to continue. In 1987, he died by suicide at age 23, leaving behind a note for his family, according to D Magazine.
What Happened to Chris Von Erich?
The youngest Von Erich was, in some ways, the inverse of his brother Mike. While Mike (initially) had the physical capabilities but not the passion for the sport, Chris loved wrestling but suffered from asthma and other health problems that hindered his pursuits. Struggling with his disappointing career and with the loss of his brother Mike, Chris's mental and emotional state deteriorated. He died by suicide in 1991 at the age of 21.
"The Iron Claw" Trailer