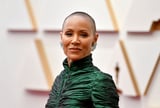 Since emerging into the spotlight in the 1990s, Jada Pinkett Smith has arguably become equally known for her acting career and her romantic relationships. Pinkett Smith launched her career with guest roles on shows like "True Colors" and "21 Jump Street," but her role as Lena James in the sitcom "A Different World" propelled her into stardom. From there, Pinkett Smith starred in several popular flicks in the '90s, including "Menace II Society," "The Nutty Professor," and "Scream 2." Her career in the 2000s continued to soar with roles in "The Matrix" franchise and "Madagascar," and by the 2010s, she starred in films like "Magic Mike XXL," "Girls Trip," and "Angel Has Fallen."
Pinkett Smith is also recognized for her talk show, "Red Table Talk," which she hosted with her mother, Adrienne Banfield-Norris, and daughter Willow Smith. Since its premiere in 2018, "RTT" has featured a number of notable guests, like Gwyneth Paltrow, Jordyn Woods, and Queen Latifah, and addressed topics like motherhood, relationships, drug and alcohol addiction, racial inequality, and more. The most popular of the "Red Table Talk" episodes, arguably, have revolved around Pinkett Smith's romantic relationships, including her highly-publicized marriage to Will Smith and "entanglement" with singer August Alsina.
Outside of her marriage to Smith, the "Girls Trip" actor has garnered significant attention for her friendship with Tupac Shakur. Pinkett Smith met the late rapper at the Baltimore School for the Arts in the 1980s, and the two were close until his death in 1996. In a 2023 interview with RollingOut, she described her relationship with Skakur as a "soulmate friendship," but despite the countless rumors, there was no romantic chemistry between them. "It was like God made us that way," she explained. "It was like, look, I'm going to put y'all together, right? Y'all are going to be a dynamic duo. But I'm going to tell you right now, I'm going to make it so y'all are not going to be able to get together 'cause that just wasn't the purpose."
Ahead of the release of Pinkett Smith's tell-all memoir, "Worthy," hitting shelves on Oct. 17, here's a breakdown of her dating history over the years, including the recent revelation that she and Smith quietly separated in 2016.