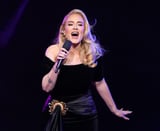 Great news, Adele fans: it's not too late to catch the singer in Las Vegas for "Weekends With Adele," because she's extending her residency, again! On Oct. 20, the "Easy on Me" singer announced the final round of dates for her shows at the Colosseum at Caesars Palace, which will run from January through June 2024.
Adele shared a thoughtful message to fans alongside the news on X (formerly Twitter), writing, "This residency, these shows have changed my life. I desperately needed to fall back in love with performing live again, and I have. I needed to reconnect with my songs and remember what they mean to me, and I have!"
She continued, "Being on stage over the last year so up close and personal with an audience again after all these years has been a truly extraordinary restorative experience that I'll never forget. All the hilarious, soulful, wild and heartbreaking interactions we've had are banked in my mind for life. The looks on your faces, seeing you laugh and cry together singing your hearts out and hoarding bags of confetti. All the simi dolls, friendship bracelets, flowers, facetime calls and flags. It's crazy how joyful a show full of sad songs can be!! I've felt so much and learned so much about myself and you. It's humanized everything I thought was scary. Mostly though – it's just made me realize how much I really enjoy being on stage, that I'm bloody good at it and that it is 100% where I belong!"
She concluded her note by saying, "So let's go one last time before I turn into a showgirl forever! Love you and I'll see you on the other side soon x."
Previously, on March 26, Adele revealed 34 additional dates, which started in June and will last through November. "See you soon," she captioned an Instagram post with the official announcement. The Las Vegas Review-Journal was among the first to report the big news, noting that on March 25 – which was supposed to be Adele's last residency show – Adele revealed that her June dates will be recorded and released as a concert special. "Playing to 4,000 people for 34 dates is not enough, and I know that," the singer told her audience of her Vegas return. "So I am coming back for a few weeks in June, and I'm going to release it to make sure anyone who wants to see this show can see it."
The journey to Adele's long-awaited Vegas residency, which kicked off in November 2022, was a long, tough road. As fans may remember, the "30" singer was forced to postpone the first series of shows just days before she was set to hit the stage back in January 2022. "I'm gutted – I'm sorry it's so last minute; we've been awake for over 30 hours trying to figure it out, and we've run out of time," Adele said in a tearful Instagram video announcement on Jan. 20, 2022, explaining how half her crew coming down with COVID and supply-chain issues had created insurmountable obstacles to delivering a perfect show. "I'm so upset, and I'm really embarrassed and so sorry to everyone that traveled to get [to the show]. I'm really, really sorry."
On July 25, 2022, Adele shared a heartfelt message via Instagram confirming "Weekends With Adele" had since been rescheduled, writing, "To be with you in such an intimate space every week has been what I've most been looking forward to and I'm going to give you the absolute best of me. Thank you for your patience, I love you ♥️ Adele."
Then, a month later, in an interview with Elle, Adele opened up about how trying the whole experience had been for her, noting, "It was the worst moment in my career, by far. . . . I was so excited about those shows. It was devastating."
Although Adele was mortified her decision would throw countless fans' travel plans up in the air, putting on a show that was subpar was not an option. "There was just no soul in it," she said. "The stage setup wasn't right. It was very disconnected from me and my band, and it lacked intimacy. And maybe I tried too hard to give it those things in such a controlled environment."
While the postponement may have been one of the lowest moments in her career, Adele said she grew into a more confident artist because of it. "The first couple of months was really, really hard," she said. "I was embarrassed. But it actually made my confidence in myself grow, because it was a very brave thing to do. And I don't think many people would have done what I did. I'm very proud of myself for standing by my artistic needs." (We're sure her boyfriend, Rich Paul, was proud of her decision, too.)
After everything Adele went through to perfect her performance, was there any doubt her residency would be one for the books? Read ahead to find out how to purchase tickets for the new 2024 dates.