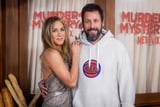 Jennifer Aniston and Adam Sandler have a bond like no other in Hollywood. Their friendship dates back long before they costarred in "Murder Mystery" and its 2023 sequel on Netflix, as the actors first met at a deli and bonded over french toast in the early '90s. "We were friends before 'Friends,'" Aniston said on "Jimmy Kimmel Live" in 2019, reflecting on her and Sandler's initial hangout more than 30 years ago. "We must have been like real family in another life."
The longtime pals famously played love interests in 2011's "Just Go With It," and the following year, Sandler spoke at Aniston's Hollywood Walk of Fame star ceremony, cracking jokes and declaring, "I love this girl. My wife loves this girl. The entire world loves this girl." Since then, the pair have remained closer than ever, hanging out with each other's families and praising one another in interviews any chance they get.
While chatting with The Wall Street Journal earlier this year, Aniston revealed that Sandler and his wife, Jackie, send her a bouquet of flowers every Mother's Day to show support for her past fertility challenges and attempts at IVF. It doesn't get more sweet and thoughtful than that.
In honor of Aniston and Sandler's decades-long friendship, we're taking a walk down memory lane and looking back at their pictures together through the years, from award show appearances to sweet red carpet moments. See the best photos ahead.