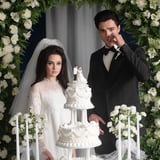 Jacob Elordi has Elvis fans all shook up with his recent spin as the iconic American singer in Sophia Coppola's "Priscilla." The film, based on Priscilla Presley's 1985 memoir "Elvis and Me," takes a more grounded approach to the King of Rock and Roll, focusing on Priscilla and their complicated, sometimes enchanting-sometimes dark relationship. But Elvis fans are burning to know- does Elordi sing in "Priscilla?"
Since the first trailer dropped for "Priscilla," the film and Elordi have been drawing comparisons to 2022's seven-time Oscar-nominated biopic "Elvis." In that film, Austin Butler donned the blue suede shoes and scored an Oscar nomination. Butler sang every one of Elvis' iconic songs used in the film, although for songs from Elvis' later years, Butler's vocals were blended with the original recordings. In the 2019 Elton John biopic "Rocketman," Taron Egerton sang John's songs unaccompanied. The 2018 Freddie Mercury biopic "Bohemian Rhapsody" used actor Rami Malek's voice and original Queen recordings as well as a famous Mercury soundalike, singer Marc Matel.
For "Priscilla," Elordi and Coppola didn't have to consider how best to use his vocals for some of the most well-known hit songs of the '50s and '60s because Elvis Presley Enterprises, the corporation that handles the licensing of Elvis' assets, did not grant the licenses for any of his songs to be used in the film.
Co-music supervisor Thomas Mars, Coppola's husband and lead singer of the band Phoenix, told Variety, "At first, we expected to have some of Elvis' music, but we didn't get anything."
While the film includes covers of a few of Elvis' songs in the public domain and songs he sampled from, the lack of iconic Elvis songs in the film reaffirms that this is Priscilla's story about her days with her boyfriend and, later, husband. The restriction also created space for original music, other songs of the time period, and the anachronistic song choices that Coppola is known for, such as scoring the opening scene set in 1959 with a song the Ramones would record more than two decades later.
"Priscilla" is now in theaters, and the soundtrack is available to stream.