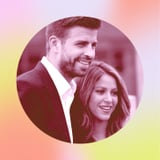 Colombian singer Shakira is often referred to as the queen of Latin music. She's credited as the pioneer who extended the global reach of Latin music singers. Since her breakup with ex Gerald Piqué in June 2022, Shakira has become an ever-stronger artist, releasing several hits, including "Monotonía" and her history-making diss track "Bzrp Music Sessions, Vol. 53." Shakira has also received a number of accolades and is nominated for several Latin Grammy Awards this year.
There's no denying that 2023 became the year of Shakira. Through this collection of stories, we are honoring Shakira's current success, where she started, and the impact she continues to have on the Latine community.
If there's one thing folks can take away from Shakira's very public breakup with retired FC Barcelona soccer star Gerard Piqué, it's that resilience never looked so sexy. The world-renowned singer was already a superstar before beginning her 12-year relationship with Piqué. But post-heartache, she's catapulted to a whole new level of fame. Despite ending her relationship to the father of her two children and facing tax fraud issues in Spain, this shooting star is shining so brightly today it's blinding and super inspiring all at once.
While you may have experienced a breakup and the heartache that follows, it was likely not experienced under the watchful eye of the global public. Still, we can learn so much from Shakira's headline-grabbing split and her return to self that followed.
"Draining romances strip you of your most precious resource – your energy," Dinorah Nieves, PhD, a behavioral scientist, counselor, and life coach, tells POPSUGAR. "You may have bursts of inspiration and joy here and there, but you don't have the dependable connection to yourself or the other person [that's] necessary to sustain your wellness."
Even Shakira, a record-breaking singer with more hits than we can count, lost herself in love. In fact, she recently opened up about how moving to Barcelona for Piqué really stunted her creatively. But when she rediscovered and remembered who the hell she was, there was no stopping her from healing, growing, and leaving Piqué behind in the dust of her once-broken heart.
In love, we may give too much without realizing it, simply because the endorphins of amor feel so good that we embrace the euphoria it provides. But upon removing those rose-colored glasses and seeing reality for what it is, a shift takes place, and you can either remain in the low-vibrational love or come out from under its grip.
"When we are in relationships, we take part in energy exchange with our partner," Erica Priscilla Sandoval, a spiritual healer and social worker, tells POPSUGAR. "At times, we may feel stagnant if it seems like they are taking too much. In reality, it is us who are giving too much. We are in control of our own energies, and no one can take what we do not give."
Societal norms paired with cultural roles and expectations impact many romantic relationships. Women, especially, often realize how much we're conforming to meet those expectations until we don't even recognize our own reflection anymore. It can happen to anyone who isn't conscious enough. After all, Shakira is a chart-topping internationally known singer, and she too had to find herself again after heartbreak.
"Despite the great strides we've seen in women's rights, we still live in a fundamentally sexist culture that often measures a woman's worth against domestic stereotypes," Dr. Nieves says. "We're praised for martyrdom and punished for setting boundaries. In cultures that center on family, the pressure to sacrifice self for the greater good of the community can be even stronger."
Surely, it was a devastating blow to Shakira's ego when she found out Piqué was cheating on her with a woman more than half her age. But it could have been exactly what she needed to remove herself from a relationship that wasn't serving her in the way she deserved. The universe has an interesting way of getting us to pay attention if we are turning a blind eye to signs of trouble. And the reality is that since Shakira's breakup, she's dropped hit after hit, broken records, and received numerous accolades, including Billboard's woman of the year award at the magazine's first-ever Mujeres Latinas en la Música event.
"The universe will always give you what you need, as long as you are open to receiving it," Sandoval says. "Even the dark moments will have a light at the end of the tunnel, because we are that light – we just need to let go of what does not serve us."
And Shakira did just that, as we witnessed her journey of healing. She utilized her music to heal her wounds and send a message to the masses that not only is heartbreak temporary, but women from all walks of life can bounce back and come back stronger than ever before.
"No one knows the important details of a relationship better than the people intimately involved in it," Dr. Nieves says of Shakira and Piqué's public breakup. "What we can speak to, however, are the memories, fears, hopes, and questions that public romances and breakups trigger in us. They offer us great opportunities to look at our own love lives, take inventory, and create change . . . if we dare to be so brave."